New Enhancements to PMC Website, Legacy View Will No Longer Be Available Effective Late-March 2023. NLM Tech Bull. 2023 Jan-Feb;(450):e8.
You asked, we listened! Since the launch of the updated PubMed Central (PMC) website in March 2022, we responded to your feedback by making several improvements to help you better access PMC. These updates, numbered in Figure 1, include:
Streamlined functionality to get formatted citation information that includes the PubMed format (NBIB file), that works easily on both web and mobile, and is consistent across the PubMed and PMC sites.
Updated functionality to easily add an article to your My NCBI collections through PMC's new "Collections" button.
An improved "Resources" section that allows for easy access to articles similar to the one you are viewing, other papers that cite that article, and links to related data records in other NCBI databases.
Since the updated site was launched, the legacy view of the article interface has remained available to help you transition to the improved site and identify and resolve any key issues. Now that we have addressed your most common requests by making the improvements listed above, we will be closing access to the legacy view of the PMC website the week of March 27. At that time, we will redirect any remaining links to the main PMC website.
We want to continue to hear from you.
As always, we encourage your ongoing feedback and plan to continue making improvements. You can submit any thoughts or questions through the yellow feedback button located in the bottom right corner of the PMC website (see Figure 1).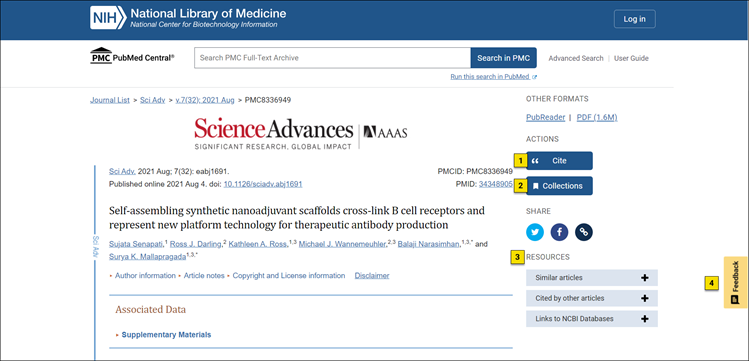 Figure 1: Screenshot of PMC website displaying the Cite, Collections, and Resources features.
Feel free to email us at info@ncbi.nlm.nih.gov with any questions.