NLM Homepage Redesign. NLM Tech Bull. 2018 May-Jun;(422):e5.
On June 1, 2018, the National Library of Medicine (NLM) launched a newly redesigned homepage. The design aims to provide users with a more efficient path to NLM tools and resources and adapts to any device's screen size.
The new design is the result of extensive user research and usability testing. You will notice simplified site-wide navigation and the introduction of new homepage content including frequently used resources, news and highlights, and announcements for upcoming online training sessions (see Figure 1). The site search box is prominently located in the center of the design to maximize usability and facilitate fast navigation (see Figure 2).
Figure 1: New NLM homepage design.

Figure 2: Search the NLM site from the homepage.
Navigate across the NLM site using four menus (see Figure 3):
Products and Services – find all NLM products, services, and APIs.
Resources for You – information tailored to specific audiences including librarians, healthcare professionals, and publishers.
Explore NLM – learn more about the library and its collections.
Grants and Funding – information about grants and funding NLM supports.

Figure 3: Use the menus to navigate the NLM site.
The center of the page features links to six of the most commonly used tools and resources, along with a brief description of each product. These will be driven by analytics and are subject to change according to usage (see Figure 4).

Figure 4:Browse the most commonly used tools.
The "News and Highlights" section includes posts from six different NLM blogs and news feeds, spanning a range of topics and interests. The feature automatically updates to display the most recent post from each resource.
Information about upcoming training sessions offered by NLM and the National Network of Libraries of Medicine is also displayed on the homepage. Choose the course title and date and link directly to a sign-up page.
Other Changes
The footer was simplified to highlight NLM user engagement channels, including customer support, social media and email updates. Sign up to receive email updates directly from the footer of the homepage (see Figure 5).

Figure 5: Sign up for Updates from NLM.
Approximately one quarter of site visitors access the NLM homepage on a mobile device. The new, responsive design gives a consistent look-and-feel across devices and provides a comparable user experience for mobile and desktop users (see Figure 6).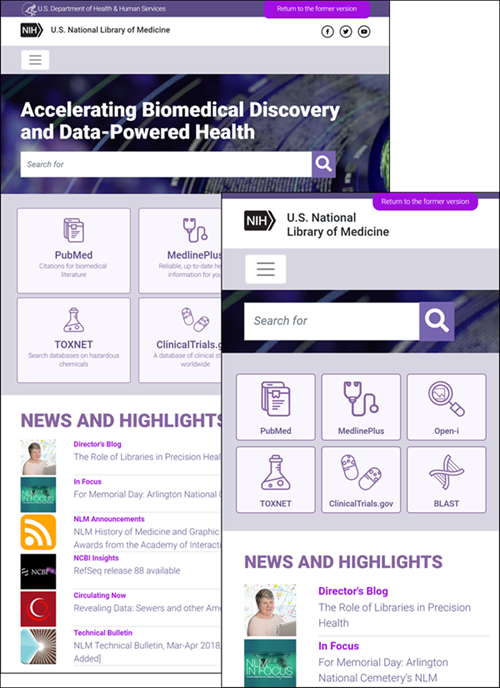 Figure 6: Tablet and mobile layouts.
Temporary access to the previous version of the homepage is available from the "return to the previous version" button at the top right of the page.
Be on the lookout for improvements and updates to the site in the coming months, including incorporating the new look and feel into all NLM pages.
We welcome your comments, questions and suggestions. Contact us through NLM Customer Support.