The Modernized ClinicalTrials.gov Website is Here! NLM Tech Bull. 2023 May-Jun;(452):e3.
Today, ClinicalTrials.gov Beta, the modernized version of ClinicalTrials.gov, becomes the primary ClinicalTrials.gov. The modernized website has an updated design that is visually appealing and easy to read. This new design includes simple web components, such as left-side menus and expandable accordions, that improve navigation and make information readily findable. In addition, the modernized website is optimized for use on mobile devices. The website was modernized with plain language in mind to make informational content easier to understand.
Figure 1: Homepage showing new "Search" features.
The homepage features an enhanced search experience with a streamlined user interface that combines the former website's basic and advanced searches. The default search fields are organized based on user feedback and advanced filters (relabeled "More filters") are accessible from either the home page or the search results page. Users can find studies close to their current location, a city, state, country, or a specific address using the "Location" field with the newly integrated map-based API.
Figure 2: Search showing the "More Filters" section.
On the search results page, users can choose either the card view or the table view to display the list of clinical studies. The card view highlights key information such as study type and recruitment status, study locations relevant to the user's search, and related terms within the study record. The table view allows users to organize and compare studies by showing, hiding, or reordering columns. Additional filters to help narrow and customize the search results are available in a left-side menu on either view.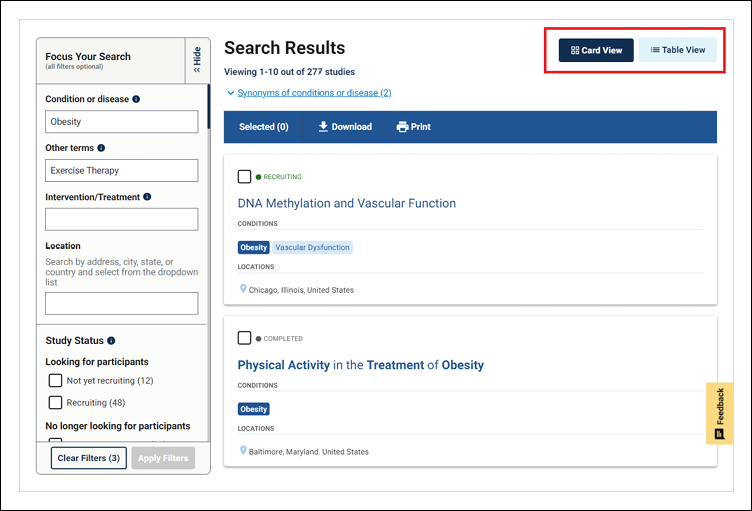 Figure 3: "Search Results" page showing card view and additional filters.
The study record page is reconfigured to include easy navigation, collapsible sections, and interactive study results tables. For data researchers and journal editors, a specially designed technical table view is also available to meet their needs. In addition, the "Record History" tab is reorganized so users can view relevant information in historical versions of the study record. Future versions that are still in development, will allow users to see important changes among the different records.
Figure 4: "Study Overview" record page showing tabs.
The former ClinicalTrials.gov website will remain available under the URL classic.ClinicalTrials.gov while we gather feedback and add remaining features to the modernized website. We will keep users informed before retiring the classic website. Visit the modernized ClinicalTrials.gov and share your feedback.