November 02, 2011
[posted]
My NCBI – Award filter for My Bibliography
My Bibliography will be enhanced to include a filter for the Award view display (see A in Figure 1). Award view is only available to eRA Commons users with active grants in their portfolios.
The Award view filter provides a method to view award data more clearly by giving you the ability to limit citation results by publication year(s), award number and publication type.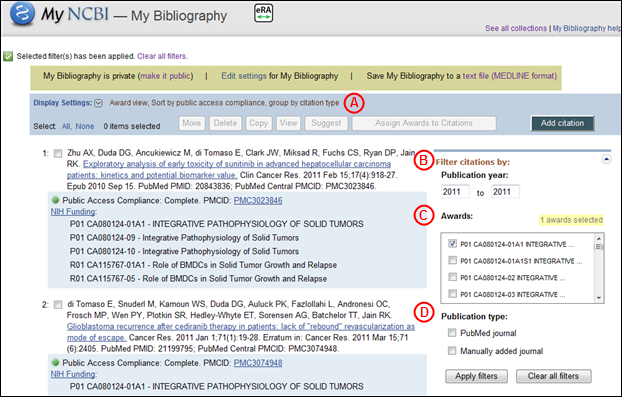 Figure 1: My Bibliography Award filter.
The Publication year option allows you to limit your citation results to a range of years or a single year (see B in Figure 1).
The Awards list allows you to limit your citation results by one or more selected awards. The Awards list contains all the award numbers associated with an author's citations stored in My Bibliography (see C in Figure 1).
The Publication type gives you the option to limit citation results to either articles found only in PubMed journals or to citations added manually to My Bibliography (see D in Figure 1).

Hutcherson L. My NCBI — Award filter for My Bibliography. NLM Tech Bull. 2011 Nov-Dec;(383):e1.