December 13, 2011
[posted]
Update — PubMed Health December 2011 Release
With its December release, PubMed® Health grows to over 18,000 systematic reviews and health technology assessments in the last 10 years. With the inclusion of the Database of Reviews of Effects (DARE) from the Centre for Reviews and Dissemination in England, PubMed Health is getting close to comprehensive coverage of reliable systematic reviews on clinical effectiveness.
Other new features and content additions in this release include:
Evidence-based, regularly updated information on cancer for consumers and health professionals from the National Cancer Institute (NCI

®

) Physician Data Query (PDQ

®

) database.
Two full-text books under "Understanding research results" from the "Understand clinical effectiveness" tab:

Irwig L, et al. Smart Health Choices: Making Sense of Health Advice. London: Hammersmith Press; 2008. Available from: //www.ncbi.nlm.nih.gov/books/NBK63638/


Evans I, et al. Testing Treatments: Better Research for Better Healthcare. 2nd edition. London: Pinter & Martin; 2011. Available from: //www.ncbi.nlm.nih.gov/books/NBK66204/


Simplified and broadened — display of medical encyclopedia search results.

Addition of Over 12,000 Reviews from DARE
A new section in the "Contents" drop-down box on the homepage has been added for the DARE reviews (see Figure 1). This new content type rounds out PubMed Health's coverage of systematic reviews on clinical effectiveness in the published biomedical literature, joining over 4,500 Cochrane reviews and hundreds of systematic reviews by health technology assessment agencies.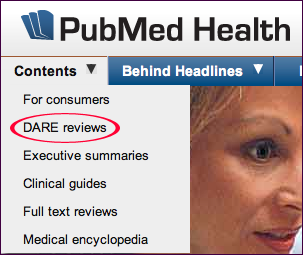 Figure 1: Contents drop-down box.
DARE is a key database produced by the Centre for Reviews and Dissemination (CRD) and funded by England's National Institute of Health Research. Information specialists at CRD regularly search an extensive group of electronic databases, supplemented by hand searching, to identify published systematic reviews that meet their set of scientific criteria.
For about half of the reviews that qualify for DARE, a CRD summary with critical appraisal of the scientific quality of the review is added. These may raise caveats about the reliability of the review, as in the example featured in Figure 2.
PubMed Health displays the title of the review and its citation (see #1 in Figure 2). For those reviews with a full CRD summary and appraisal, the conclusion is then displayed, followed by a link to the complete version (see #2 in Figure 2). This is followed by the abstract of the review itself, if one is included in PubMed (see #3 in Figure 2).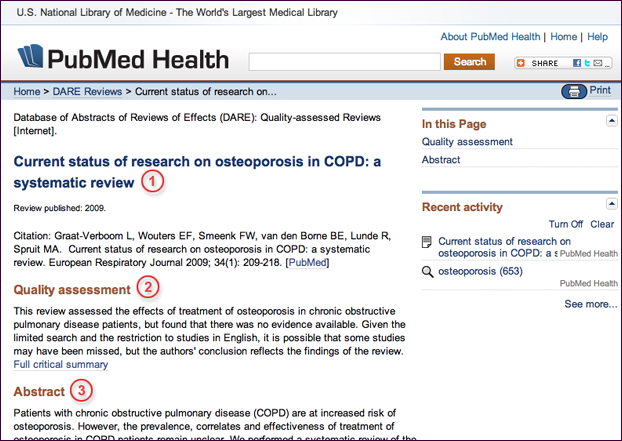 Figure 2: Example of a DARE review with CRD summary.
Each PubMed Health record from DARE includes a link to an explanation of CRD's process and assessment criteria.
Currently, DARE is added to weekly, and new records and summaries will appear shortly afterward in PubMed® Health. The records will not yet appear in PubMed.
Changes to Display of Search Results
DARE reviews are returned with all results, and can also be viewed under their own content type (see #1 in Figure 3).
Medical encyclopedia content has been simplified, with some content text also appearing (see #2 in Figure 3). Previously, only medical encyclopedia content for diseases and drugs were shown on the search results page. Relevant medical encyclopedia content for procedures and other types of searches now display.
The parallel "Clinical Queries" filter search for systematic reviews in PubMed remains (see #3 in Figure 3). This search continues to return results chronologically.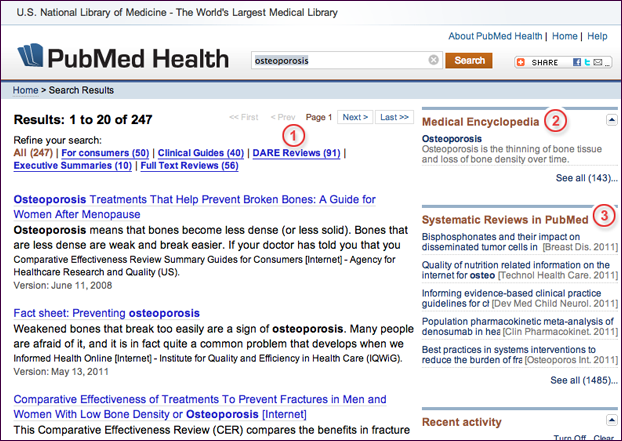 Figure 3: Search results.
NCI cancer information for patients and health professionals appears under the "For consumers" and "Clinical Guides" links, respectively.
Twitter followers can learn more about PubMed Health content and additions by following @PubMedHealth.


Bastian H. Update — PubMed Health December 2011 Release. NLM Tech Bull. 2011 Nov-Dec;(383):e12.