Fine A., Nazir H., Robinson C. Beta ClinicalTrials.gov Website Released - Let Us Know What You Think! NLM Tech Bull. 2021 Nov-Dec;(443):e6.
The first beta release of the ClinicalTrials.gov modernization effort is now available. The beta website launched with foundational site features that will be expanded over time, providing a glimpse of ClinicalTrials.gov's future. The beta website has a more modern look and feel and is designed for both desktop and mobile devices. This first release includes a redesigned home page, an updated search experience, a new study record display, and more information in plain language. Development activities are continuing, and we will be making iterative improvements to the beta site based on feedback from users like you.
How to Access and Give Feedback

You can access the beta website via the banner link on the ClinicalTrials.gov home page or directly via https://beta.clinicaltrials.gov/. There are multiple ways to provide feedback as you explore the beta site:
Click on the Give feedback button in the bottom right corner of every page.
Click on the Give feedback link in the banner at the top of every page.
Either option will take you to a form where you can enter your comments. You can also use the thumbs up/thumbs down feature, placed in various spots throughout, to let us know whether you like or dislike something on the site. All feedback is welcome and will be used to help inform further development of the beta site.
Home Page
The ClinicalTrials.gov home page (see Figure 1) has been redesigned for ease of use, with a clearly stated site purpose.
Figure 1: Beta ClinicalTrials.gov home page.
Search Feature
The search experience has been updated with a redesigned search results page where users can apply filters to refine their search results. The number of studies associated with each filter option is provided to help users narrow their search (see Figure 2).
Figure 2: Filters to refine search results.
Study Record Display
Study records are now displayed on the search results page in a "card" format that highlights key study information (e.g., study recruitment status, study locations relevant to the user's search, related terms within the study record). Additional refinements will be made to the study record cards as development of the beta site continues.
Study records have also been reorganized, with:
Improved navigation, including a floating side menu and the ability to expand and collapse sections
Integrated Google Maps (e.g., showing study locations)
Updated results table design (see Figure 3)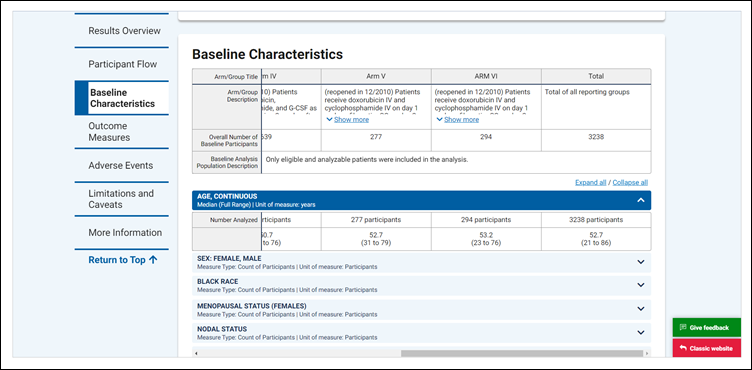 Figure 3: Baseline Characteristics table.
Information in Plain Language
Information presented in plain language has been added to the Background, Learn About Studies, Study Record, and Resources pages to better support a wide variety of users. The content was refined based on a full health literacy review using the most up-to-date, evidence-based health literacy principles and feedback from focus group testing.
Learn More
This release is foundational, with more features to be added in the future. In particular, we are developing advanced features to better meet the needs of data researchers and others who use clinical trial information in their work.
Find updates related to the beta site on the ClinicalTrials.gov Modernization webpage.
By Anna M. Fine, Hibah Nazir, & Christina Robinson National Center for Biotechnology Information