Find, Browse and Follow Biomedical Literature with PubMed Journals. NLM Tech Bull. 2016 Sep-Oct;(412):e2.
[Editor's Note: This is a reprint of an announcement from the National Center for Biotechnology Information (NCBI). To automatically receive the latest news and announcements regarding major changes and updates to NCBI resources and tools please see the subscribe page.]
Following the latest biomedical literature can be a challenge, but the new PubMed Journals from NCBI will help you keep up to date (see Figure 1).
PubMed Journals lets you:
Easily find and follow journals of interest.
Browse new articles in your favorite journals.
Keep up to date with a Journal News Feed containing new arrivals, news links, trending articles, and important article updates (retractions and more!).
Get started now:
Visit the PubMed Journals homepage to see a list of popular journals (see A in Figure 1).
Click a journal title to browse the most recent content and news feed (see B in Figure 1).
Click the "Follow" button to add to your personal journal list (see C in Figure 1).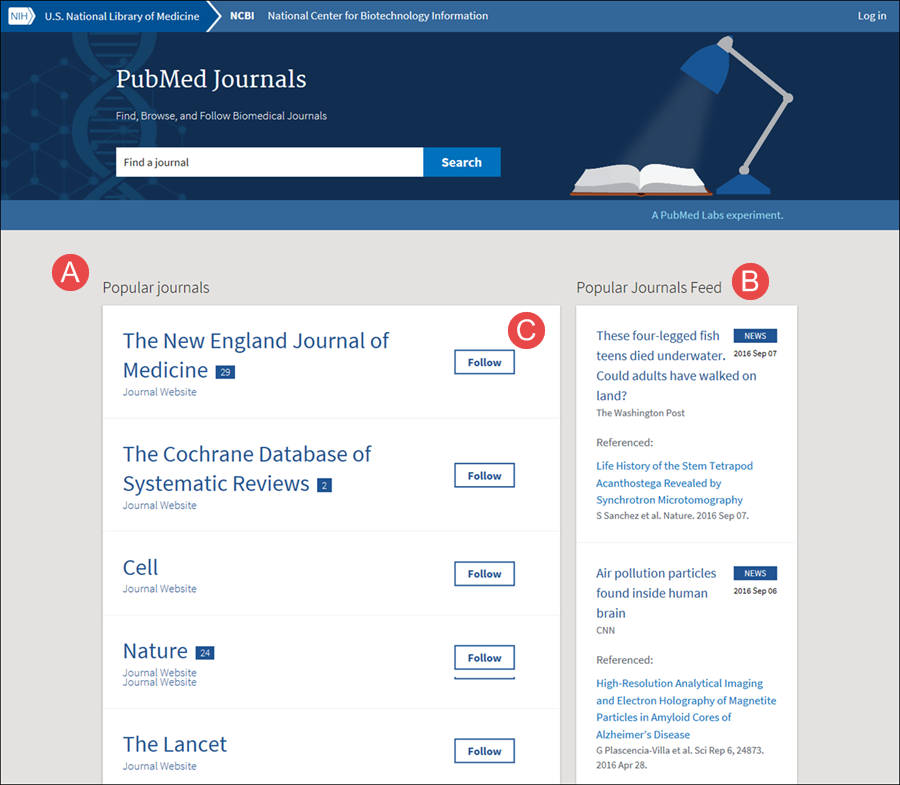 Figure 1: PubMed Journals homepage.
To follow a journal, you must be logged into your NCBI account. If you are not already logged in to NCBI, you can try out our completely revamped login experience (see Figure 2). The new NCBI login, like the old, works with any existing NCBI account or your eRA Commons, NIH, or federated university account.
Figure 2: New NCBI login.
A link to PubMed Journals will be found on the enhanced PubMed homepage (see
PubMed Homepage Enhanced
for more information).
PubMed Journals is an experiment of
PubMed Labs
, an NCBI product incubator for delivering new features and capabilities to NCBI end users.