Willis, S. NLM Classification 2020 Summer Edition Now Available. NLM Tech Bull. 2020 Sep-Oct;(436):e4.
NLM Classification Redesign
Beginning with the 2020 summer edition, the NLM Classification has a new look and feel. With this new design comes a new URL (https://classification.nlm.nih.gov/). The old URL (https://www.nlm.nih.gov/class) will automatically be redirected to the new one. The new site functions best in Chrome or Firefox.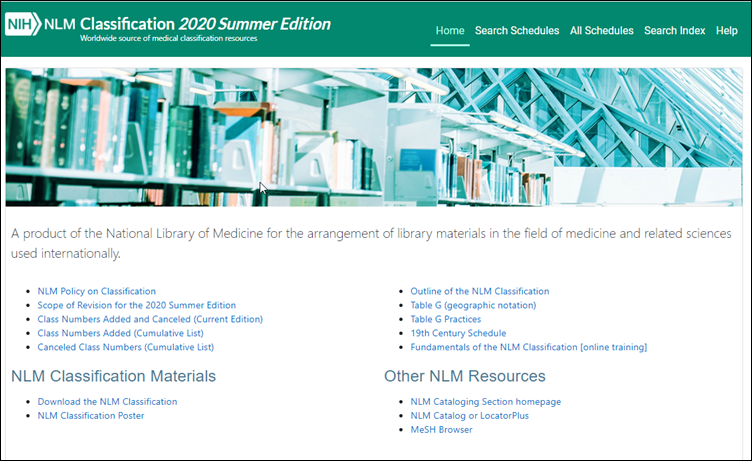 Figure 1: New NLM Classification Interface.
New features
The look may be different, but the organization structure of schedules and index pages remains the same. Some new features include:
No search boxes on the home page. Users can access searches of the schedules via the navigation bar at the top right corner.
Links to documentation have been rearranged and updated.
Users are able to refine searches by choosing a search type:

Exact – search for word(s)/class number(s) in exact order
Contains – search for words that appear in relative proximity
Startswith – search for word(s)/class number(s) that begins with search term

Schedule range headers are displayed on the left side of the schedule page rather than at the top.
Index entries are displayed in a collapsed form. Where applicable, the user must click on the plus sign to expand and view the entire index entry.
For more details see the Help Instructions for the NLM Classification Public Pages.
Scope of Revision of the 2020 Summer Edition
The major focus of the 2020 summer edition was the systematic review of the following schedules: WD (Disorders of Systemic, Metabolic or Environmental Origin, etc.) and WO (Surgery). In addition to the systematic reviews of the WD and WO schedules, other minor additions and changes were made.
Summary Statistics for the 2020 Summer Edition
132 class numbers added
8 schedule range headers added
171 class number captions or notes modified
119 schedule range headers modified
74 class numbers canceled
9 schedule range headers deleted
49 index main headings added
763 index entries modified
50 index headings deleted
Systematic Reviews for the 2020 Summer Edition
Highlights from the WD (Disorders of Systemic, Metabolic or Environmental Origin, etc.)
A partial review of the WD schedule was already conducted with the 2019 summer edition systematic review to consolidate certain subjects in the QW and other schedules. The review of the rest of the WD schedule was completed with the 2020 summer edition. As a result, the following changes were made:
The WD Schedule Header was changed from Disorders of Systemic, Metabolic or Environmental Origin, etc. to Medicine in Selected Environments.
WD 100-175 Nutrition Disorders cancelled:

New section created in QU schedule for Nutrition Disorders: QU 242-252
Malnutrition QU 244 and Obesity QU 248 given Table G breakdown
General Deficiency Diseases moved from WD 105 to QU 246
Vitamin deficiencies WD 110-155 are now classed with the actual vitamins
Vitamins QU 167-181 separated from Nutrition header in the QU schedule and made an independent section
Celiac Disease. Sprue moved from WD 175 to the new number WI 471, indented under the new number WI 470 Malabsorption syndromes (formerly WD 200.5.M2)

WD 200-205 Metabolic Diseases New section created in QU schedule for Metabolic Diseases: QU 260 A-Z; QU 265 A-Z for Inborn Errors of Metabolism.
WD 220-226 Water-Electrolyte Imbalance New section created for Water-Electrolyte Imbalance. Acid-Base Imbalance. Two separate class numbers were created for the two imbalances: QU 270 and QU 274. Works on regular balance are classified in QU 105.
WD 300-380 Connective Tissue Diseases (Note: Several numbers in the WD 300-330 Immune System Related Diseases area had already been cancelled with 2019 summer edition.) Connective Tissue Diseases and Collagen Diseases moved to new section: QZ 192-196.
WD 600-670 Disorders and Injuries of Environmental Origin

WD 600 Persian Gulf Syndrome moved to new number QZ 146 Syndromes
WD 602 Electric Injuries and WD 670 Cold Injuries moved to WO schedule
Several revisions made to QT 162 area:

Many disorders moved from WD to QT 162 with Environmental factors acting on human physiology, e.g., Motion Sickness classed with Motion
4 new QT 162 A-Z numbers created; 1 number cancelled; 2 numbers modified

WD 650 Submarine medicine moved to new number under Naval Medicine section

WB 107 Wilderness Medicine New section header and one number created: WD 680
WD 700-745 header broadened: changed from Aviation Medicine to Aerospace Medicine. Other changes in this section:

8 new form numbers created in this area based on literary warrant
6 existing captions or notes modified
1 number cancelled: WD 745 Aviation dentistry

WD 750-760 header changed from Space Medicine to Space Flight
WD 800 Naval Medicine section enhanced:

27 new form numbers created based on literary warrant
New numbers created for Submarine Medicine WD 850-860 in Naval Medicine section
New number created for Collective Biography of Naval Personnel WZ 112.5.N2

WB 116 Military Medicine New section created for Military Medicine at WD 900

35 new form numbers created
Naval medicine schools are classed in WD 919 with Military Medicine
Highlights from the WO (Surgery)
The WO Schedule Header was changed from Surgery to Wounds and Injuries
14 New WO numbers created
| | |
| --- | --- |
| WO 320 | Nerve block |
| WO 502 | Surgical hemostasis |
| WO 504 | Electrosurgery |
| WO 508 | Ablation techniques |
| WO 595 | Cosmetic techniques |
| WO 662 | Tissue and organ procurement. Tissue donors |
| WO 664 | Cell- and tissue-based therapy (works on stem cell transplantation classed in QU 325) |
| WO 705 | Cold injury |
| WO 720 | Asphyxia |
| WO 730 | Multiple trauma |
| WO 750 | Emergency Surgery |
| WO 780 | War-related injuries (General) |
| WO 810 | Stab wounds |
| WO 840 | Electric injuries |
| | |
| --- | --- |
| WO 140 | Surgical diseases (General) (Classify general works on prognosis and treatment of surgical diseases in WO 500. Classify works on surgery for specific diseases with the disease) |
| WO 198 | Electrosurgery. Cautery. Laser and electrocoagulation (General) (Classify works on cautery in WO 508. Classify works on electrosurgery in WO 504. Classify works on laser coagulation in WO 511) |
| WO 250 | Asphyxia. Methods of resuscitation (Classify general works on asphyxia in WO 720. Classify works on resuscitation in WB 106 [new number]. Classify works on respiration problems caused by anesthesia in WO 245) |
| WO 290 | Rectal (Classify works on rectal anesthesia in WO 275) |
| WO 297 | Muscle relaxants and tranquilizing agents in conjunction with anesthesia and analgesia (Classify works on muscle relaxants in QV 140. Classify works on tranquilizing agents in QV 77.9) |
| WO 375 | Diagnostic and therapeutic anesthetic procedures (Classify works on nerve block in WO 320 [new number]. Classify works on anesthetics in QV 81) |
| WO 515 | Regenerative medicine (Classify works on regenerative medicine in QT 110) |
| WO 640 | Prosthesis in plastic surgery (Classify works on surgically inserted prostheses and implants in WO 162) |
38 WO class number or notes were modified
Other 2020 Summer Edition Changes
Examples of additional changes made:
Classification of Specific Types of Diet
An analysis of diet terms was done by exploring the MeSH trees for Diet and Diet Therapy because not all the terms are in both trees. Decision: All Diet Therapy terms should point to WB. Terms that just tree under Diet can point to QT.
2 new numbers created:
WB 415 Caloric restriction. Reducing diet
WB 423 Mediterranean diet
2 numbers modified
WB 425: Fat control. Dietary fats: Note adjusted to change WD class number to new WB 415 number: Classify works on weight reduction diets in WB 415
WB 431: Gluten-free diet added to caption
10 new index terms added:
Diet, Carbohydrate Loading -- WB 427
Diet, Gluten-Free -- WB 431
Diet, Healthy -- QT 235
Diet, High-Fat -- QT 235
Diet, High-Protein Low-Carbohydrate -- WB 427
Diet, Paleolithic -- WB 400
Diet, Western -- QT 235
Dietary Approaches To Stop Hypertension -- WG 340
Portion Size -- QT 235
Serving Size -- QU 145.3
Classification of Safety in Clinical Laboratories
QY 70 was expanded to include administrative aspects of clinical laboratories including standards. A new number, QY 75 Laboratory Safety, was created specifically for safety in laboratories. Several index terms were modified to add sub-indexes about safety and administrative aspects. New term added to index: Laboratory Proficiency Testing.
Classification of Renal Elimination
Caption at WJ 303 was changed from Urinary Secretion. Anuria (General) to Diuresis. Renal elimination. Renal Elimination was added to index to point to WJ 303.
W1 versus WY for Reports of Societies
Reports of an administrative nature, regardless of how often they are issued, should be classed with the society. Edits were made to notes across all the schedules at form number 1.
Forthcoming
The PDF version of the NLM Classification will be updated with 2020 winter and summer classification data in late fall 2020.
The NLM Classification poster has been revised with 2020 data. The 18" x 24" poster will be available for ordering in late fall 2020. To order, please contact the NLM Communications Team. An 8.5" x 11" high resolution version of the 2020 poster is available in PDF at https://classification.nlm.nih.gov/static/classification/pdf/nlm_classification_poster_2020.pdf.
The 2021 winter online edition will be published in late January 2021. It will encompass the additions and changes from the 2021 MeSH (Medical Subject Headings) vocabulary as evaluated for inclusion in the Classification index. All main index headings will be linked to the 2021 vocabulary in the MeSH Browser.
By Sharon R. Willis
Cataloging and Metadata Management Section, Technical Services Division