The Greatest Need
"We needed to be where our patients were, so we packed up what we could salvage and
followed our patients." —Michael Andry, EXCELth Community Health Center, 2006
Flooding in New Orleans in the aftermath of Hurricane Katrina, 2005
Courtesy AP Photo/NOAA
In the summer of 2005 Hurricane Katrina swept across the southern United States, causing extensive damage as far as one hundred miles from the center of the storm. The devastation created a health care crisis for the Gulf Region. As well as injuries caused during this catastrophic event, many poor residents who had been unable to evacuate were also dealing with long-term health problems.
In the days afterwards, the very young, the elderly, people with disabilities, and those with chronic illnesses were particularly at risk. Some had lost their medicines when they were forced to flee. Others were unable to continue ongoing treatment at area hospitals. Residents relied on disaster response teams from other states and community health centers for help. Medical staff and volunteers set up temporary clinics wherever they could.
On September 3 and 4, more than ten thousand people were airlifted out of New Orleans. Many were taken to hospitals that had not been affected by the hurricane to receive additional treatment.
Under One Roof
"We're providing services to people, thousands of people each year, who otherwise would not receive the care that they need." —Aaron Shirley, Jackson Medical Mall Foundation, 2007
Jackson Medical Mall Thad Cochran Center, Jackson, Mississippi, 2007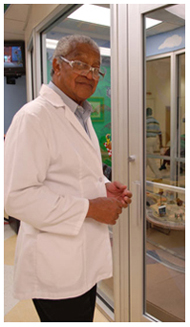 Dr. Aaron Shirley, chairman of the board of the Jackson Medical Mall Foundation, 2007
The Jackson Medical Mall Thad Cochran Center serves patients from all eighty-two counties in the state of Mississippi. Patients can receive basic medical care including ophthalmology and dentistry as well as treatment for long-term health issues.
There is a bank and a pharmacy on-site, and a meeting room that members of the community regularly reserve for special events. Dr. Aaron Shirley describes the center as a "one-stop shop" because of the wide range of services available.
BEYOND MEDICINE:
Dr. Aaron Shirley shares his view of health care.
Transcript