"Small is beautiful but big is necessary."—BRAC motto, 1970s
Teaching oral rehydration therapy, Bangladesh, 1980s
Courtesy BRAC Bangladesh
Oral rehydration therapy (ORT) is an inexpensive, life-saving treatment for dehydration. Wherever access to clean water and sanitation is limited, diarrheal diseases like cholera threaten lives, especially those of babies and young children. ORT, which is essentially a mixture of salt, water, and sugar, has earned the label "a simple solution" because it is made from basic, inexpensive ingredients, and can be easily learned.
The Johns Hopkins Center for Medical Research and Training refugee camp
The Matlab field trial proved to the medical community that ORT could be employed in rural settings, but it was still unknown whether it would be effective in large-scale emergencies. Around the same time as the PSCRL breakthroughs, the Johns Hopkins Center for Medical Research and Training (JH-CMRT) was also working on cholera treatment in Calcutta, India. In the summer of 1968, Nalin went to Calcutta to share his findings with the JH-CMRT.
In May 1971, the Liberation War between East and West Pakistan (which led to the creation of Bangladesh), displaced approximately ten million people. They were housed in refugee camps in West Bengal, India. When monsoon season arrived in June, a cholera epidemic spread throughout the camps. Tired, malnourished, and living in unsanitary conditions, many refugees became seriously ill. Before aid arrived at the camp almost one third of the inhabitants died from cholera and diarrheal disease.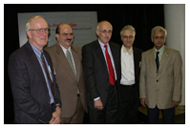 2002 Pollin Prize in Pediatric Research winners (left to right) Nathaniel Pierce, David Nalin, Norbert Hirschorn, Rudi Leiber, Dilip Mahalanabis
Courtesy David R. Nalin, M.D.
Mahalanabis and his colleagues proved that ORT could be administered by people who had no previous health care training, and that the therapy was effective in large-scale emergencies. In recognition of the importance of this work, the group received the first Pollin Prize in Pediatric Research, in 2002.
Given the large numbers of people with cholera in refugee camps it was impossible to supply enough intravenous fluid to treat dehydration. JH-CMRT decided that administering ORT would be the most practical treatment solution, and on June 24, 1971 Dr. Dilip Mahalanabis set up two ORT teams in Bongaon, India, near the East Pakistan-India border. From June 24 to August 30 they treated approximately four thousand people with cholera with ORT. Towards the end of June, the peak of the epidemic, more than two hundred new patients were admitted for treatment each day. The overwhelmed staff could not keep up, and family members had to help by feeding ORT to ailing relatives and friends.
Bangladesh Rural Advancement Committee (BRAC)
Oral rehydration therapy in Egypt
Diarrhea was the number one killer of children in Egypt in the late 1970s, thought to be responsible for half of all the nation's infant deaths. From 1981 to 1991 the Egyptian government carried out a major campaign to promote oral rehydration therapy, reducing the country's child mortality rate by one third.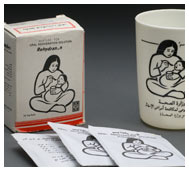 Packets of oral rehydration solution and cup featuring the campaign icon of a mother and child, 1980s
Courtesy Norbert Hirschhorn, M.D.
Rather than using the homemade version of the solution, the program relied upon the sale of commercially-produced packets, subsidized by the government and funding from the United States Agency for International Development (USAID). Many Egyptian parents could no longer afford the treatment when the subsidies ended.