Technologies of Surveillance
In the late 19th and early 20th century, forensic science was increasingly applied to the body of the suspect. The populations of cities and nations were growing rapidly, and so did national and colonial administrations, policing, and penal systems, which adopted (and grew through the use of) forensic methods of identification and detection. Officials searched for ways to reliably identify individual colonial subjects, prisoners, habitual criminals, and perpetrators.
The late 19th and early 20th century saw the emergence of new forensic technologies and institutions—the collective project of scientists, reformers, and government officials. The proliferating growth of industry, cities, nation-states, colonial empires, mass immigration, and urban slums gave rise to new class, ethnic, national and political divisions, new opportunities for organized and disorganized crime—and spurred reformers to agitate for, develop, and implement technologies of identification, surveillance, investigation, and analysis, of persons as well as bodies and crime scenes. Fingerprinting and anthropometry (also called bertillonage) were developed, in part, as a way for imperial administrators, immigration officers, prison officials, and police to scientifically ascertain the identity of colonial subjects, immigrants, prostitutes, prison inmates and recidivists. But they were also used in criminal investigations, as a means of identifying criminal and victim.
With the popular press featuring lurid stories of horrific crimes and criminals, forensic scientists and reformers were well-positioned to offer solutions to the problems of crime. They called for and implemented ambitious plans to establish and nurture local, regional, and national police identification and investigation bureaus, as well as morgues, crime laboratories, courses of specialized training, and professional associations. Hand in hand with the introduction of new scientific approaches to criminal investigation, the entire criminal justice system—police, prosecutors, coroners' offices, courts, prisons, and research universities—underwent an uneven and fragmentary process of institutionalization, modernization, and professionalization.
Bertillonage
The emerging field of criminology began focusing on the physical characteristics of the criminal in the second half of the 19th century. In Paris, Alphonse Bertillon, a police department file clerk who was the son of an eminent medical professor, developed a rigorous method of measuring and categorizing human beings. Known as "bertillonage," the system used precise measurements, photographs, and notes to make a descriptive record of individual suspects.
Fingerprint diagram, 1940
Frederick Kuhne, The Finger Print Instructor…Based upon the Sir E. R. Henry System of Classifying and Filing…, New York
National Library of Medicine
Distinct classes of marks
"Fingerprints…have the unique merit of retaining all their peculiarities unchanged throughout life, and afford in consequence an incomparably surer criterion of identity than any other bodily feature."

—Francis Galton, English polymath and eugenicist, 1892
Forensic science became increasingly preoccupied with the body of the suspect in the second half of the 19th century. As cities, nations, and empires expanded, officials sought ways to reliably identify citizens, colonial subjects, prisoners, and habitual criminals.
The first practical application of fingerprinting as a unique individual identifier came in the 1860s. Sir William Herschel, a colonial administrator in British India, used fingerprints to detect false pension claims. In an 1892 case in Argentina, Juan Vucetich became the first investigator to use fingerprints to help secure a conviction for murder.
A useable classification system was necessary before forensic fingerprinting could be put to practical use. In the 1890s and early 1900s, Vucetich in Argentina, and E. R. Henry in British colonial India and Great Britain, separately devised such systems. After a series of dramatic cases proved its merits, fingerprinting spread rapidly.
Double exposure: the Buck Ruxton case and the triumph of forensic reconstruction
On September 14, 1935, Dr. Buck Ruxton, in a jealous rage, murdered his wife Isabella, in their house in Lancashire, England. He also killed Mary Rogerson, a nursemaid who probably witnessed the attack on her mistress.
Dr. Ruxton dismembered his victims, tried to destroy their fingerprints, birthmarks, and other features, and then scattered the remains. When police recovered the jumbled body parts, the case became known as the "Jigsaw Murders." Circumstantial evidence implicated Ruxton, but prosecutors needed to make a precise identification of the victims. Using photonegative portraits of Mrs. Ruxton and Mary Rogerson to aid in the reconstruction, forensic pathologists John Glaister Jr. and James Couper Brash sorted and reassembled the body parts.
The team of pathologists, dentists, entomologists, and other specialists worked together to make the bodies of the victims—and perpetrator—visible and identifiable. At the same time, the figure of the forensic expert—Dr. Glaister especially—became visible in court and the press. Celebrated as a landmark of forensic science, the Ruxton case fostered public faith in scientific crime investigation.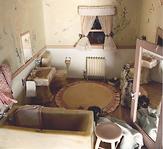 Bathroom crime scene, Nutshell Collection, 1940s-1950s
Photograph Courtesy of Corinne May Botz
Office of the Chief Medical Examiner, Baltimore, Maryland
Three-dimensional views: the nutshell studies of unexplained death
"Capt. Lee was a perfectionist in every sense of the word.…I don't think there was any detail too small or too insignificant to be given careful, painstaking consideration."

—Erle Stanley Gardner, American mystery writer, 1962
Forensic science was the lifelong passion of Frances Glessner Lee, heiress to the International Harvester fortune. In the 1940s and 1950s, Mrs. Lee employed expert artisans to help her create eighteen miniature crime scenes based on actual incidents.
Inspired by the forensic dictum "convict the guilty, clear the innocent, and find the truth in a nutshell" Mrs. Lee dubbed her intricate, dollhouse-sized creations the "Nutshell Studies of Unexplained Death." The Nutshells were designed as teaching aids for training crime investigators and are still used by the Office of the Chief Medical Examiner of Maryland, in Baltimore.
For her dedication to the advancement of forensic science, Mrs. Lee received an honorary appointment as captain in the New Hampshire State Police.