Wolf K, Ide N, Koufopoulos J, Williams RJ, Tse T. ClinicalTrials.gov: First in a Series of Changes to Improve Usability for Stakeholders. NLM Tech Bull. 2017 May-Jun;(416):e4.
Beginning June 19, 2017, ClinicalTrials.gov will undergo a series of changes focused on improving the ability to search, display, and review information about clinical research studies registered with the site. This article highlights information about the first of these efforts — the transition to the design and features available on the current version of the beta site (see Beta Version of ClinicalTrials.gov Available for Testing). Additional designs and features will be evaluated on a new version of the beta site over the next few months. Changes will be introduced on ClinicalTrials.gov as they are ready, following testing and validation. It is anticipated that the most significant set of changes will be available on ClinicalTrials.gov in September 2017. More information will be provided in future NLM Technical Bulletin notices.
ClinicalTrials.gov is a Web-based resource from the National Library of Medicine (NLM). It provides patients, family members, health care professionals, researchers, and the public with access to information about clinical studies on a wide range of diseases, as well as information on the availability of experimental drugs by expanded access (or "compassionate use"). This information is provided and updated by the study sponsor or investigator. Listing of a study on ClinicalTrials.gov does not reflect endorsement by the National Institutes of Health (NIH). ClinicalTrials.gov enables visitors to search for studies by disease or condition; drug, device, or other interventions (e.g., medical procedure); recruitment status; study location; and many other study characteristics. As of May 25, 2017, ClinicalTrials.gov lists information about 245,500 clinical studies and expanded access in all 50 states and 200 countries.
Background and Phased Implementation Approach to ClinicalTrials.gov Updates
Following the last significant update to ClinicalTrials.gov in September 2012 (see New Style and New Content for ClinicalTrials.gov), NLM continued conducting user studies with outside usability experts, analyzing online survey results, and reviewing user suggestions for additional features and use cases. This work led to incremental changes and, ultimately, the release of a beta site. The current version of the beta site has been available for public user testing since February 2017.
In September 2016, Dr. Francis S. Collins, NIH Director, announced a new partnership between NLM and 18F, a digital services consultancy within the U.S. General Services Administration, to continue work on making ClinicalTrials.gov a consumer-friendly resource (see the NIH Director's Blog post on Clinical Trials: Sharing of Data and Living Up to Our End of the Bargain). Additionally, the 21st Century Cures Act, enacted into Federal law in December 2016, requires NIH "to receive recommendations with respect to enhancements" of ClinicalTrials.gov from consultation with various stakeholders, including patients, researchers, physicians, industry representatives, developers of health information technology, and other Federal agencies.
Since February 2017, 18F has conducted user research with end-users representing various ClinicalTrials.gov stakeholders; characterized gaps between the information, search capabilities, and features that ClinicalTrials.gov offers, and what users expect it to offer; and provided user-oriented recommendations and solutions. This work with 18F, which will continue through September 2017, also addresses the legal requirements under Section 2054 of the Cures Act.
The June 19, 2017, update of ClinicalTrials.gov will incorporate some of the initial 18F recommendations. However, further development, testing, and validation of additional 18F recommendations and findings are needed before being implemented.
New Features in Current Release

Pages Resize to Fit Device
The pages of the ClinicalTrials.gov Web site now adjust to the size and resolution of the display for a particular device, ranging from desktop monitors to mobile touchscreens (see Figure 1). Future changes to the Web site will optimize how pages are displayed across devices. The amount of information on the homepage has also been reduced to allow users to focus on the information that will allow them to complete the intended task.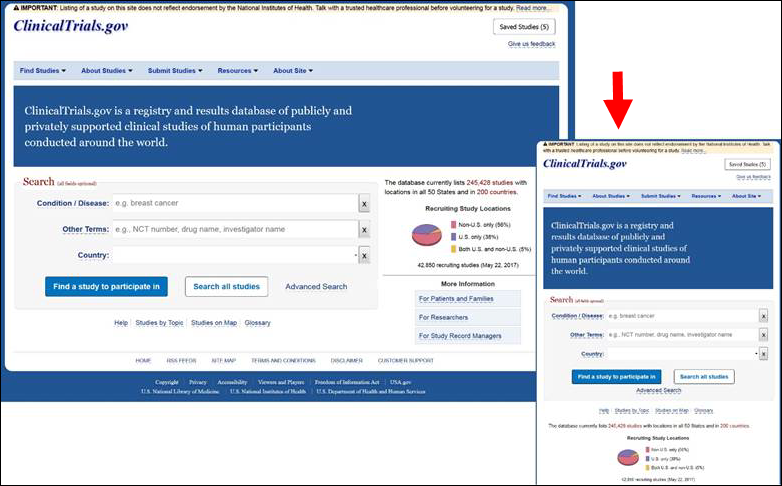 Figure 1: New responsive design of the ClinicalTrials.gov homepage.
Fielded Search
The new design adds two optional fields to the primary Search box in addition to "Other Terms" (see Figure 2):
Condition/Disease for specifying the disease, disorder, syndrome, illness, or injury that user wants to find clinical studies about. When a user begins entering the name of a condition or disease, suggested phrases will appear for a user to select from (if desired).
Country for selecting the country in which studies are or were conducted. If "United States" is selected, the user is provided with an option to select one of the fifty (50) states and "District of Columbia."
Entering terms in one or more of these fields helps the search engine to focus on the most relevant parts of the structured study record. By entering terms in two or more fields and providing more specific search criteria, users can conduct more precise searches. The ClinicalTrials.gov Advanced Search feature continues to provide additional fields for specifying search terms (see How to Use Advanced Search).
Figure 2: Sample fielded search.
Search Results Page
The Search Results page is updated substantially to provide new ways to manage and refine search results. For example, the additional search fields continue to be available for users to refine the search results (see Figure 3). This search box can also be collapsed to allow for more room on the screen for the search results (see Figure 4).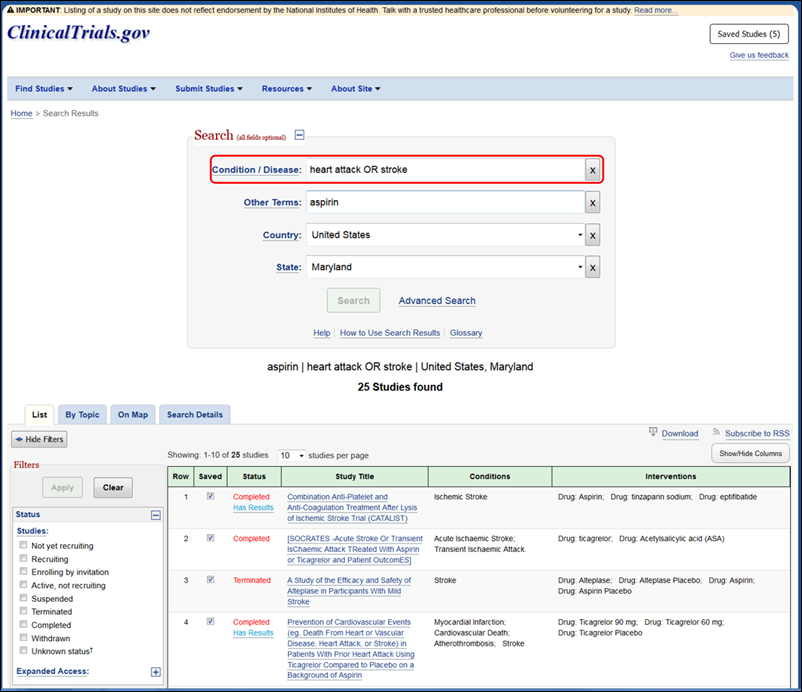 Figure 3: Search Results page with fielded search for refining searches.
Other Search Results page enhancements under the List tab include the following: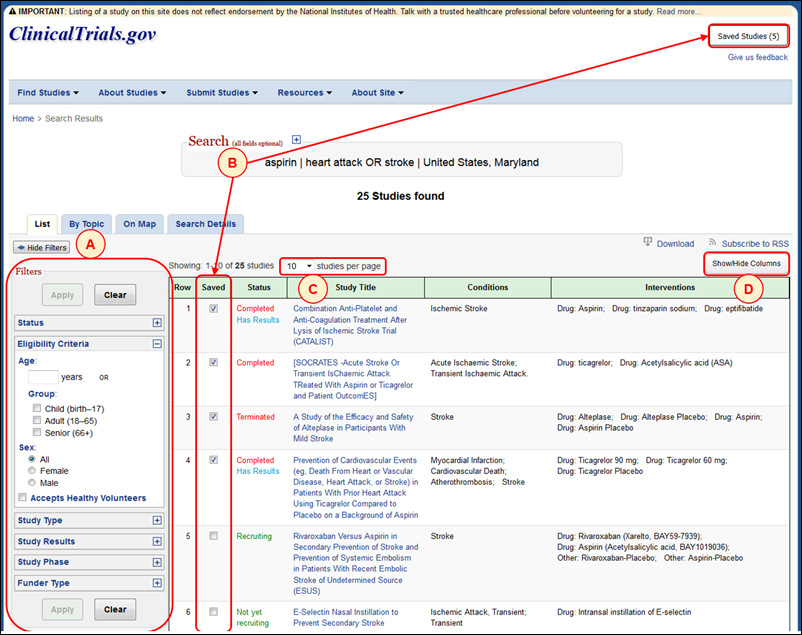 Figure 4: New features on the Search Results page.
The "Show/Hide Columns" panel is used to display particular characteristics (green indicates "selected") for each study record listed on the Search Results page (see Figure 5).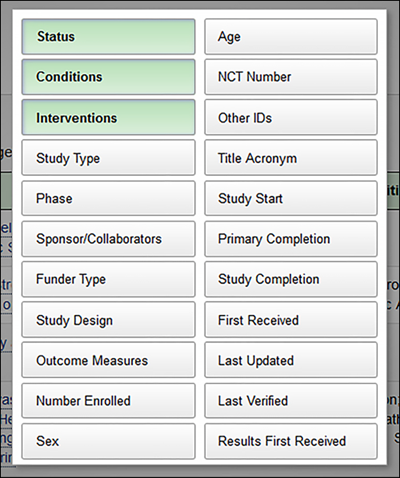 Figure 5: "Show/Hide Columns" panel.
The table of search results may be downloaded into a PDF file, plain text, or a separated values format compatible with most spreadsheet programs such as Microsoft Excel® (see Figure 6). This feature is available using the "Download" button in the upper right hand corner of the search results table. The download can be limited to the displayed table columns only or applied to all available table columns.
Figure 6: The "Download the Search Results" panel.
Search results may also be viewed By Topic (for example: Conditions, Drug Interventions, and Sponsor/Collaborators) using the tab on the Search Results page. The new design for this information permits users to sort and find information using a table.
Coming Soon to ClinicalTrials.gov
Additional enhancements to ClinicalTrials.gov are under development and include, but are not limited to:
Searching for U.S. studies by ZIP code and radius in miles
Redesigning the study record layout to make the most relevant information more prominent
We welcome your comments, questions, and suggestions. To contact us, please click on "Customer Support" in the footer of the ClinicalTrials.gov site which will take you to the NLM Customer Support page. Then click on "Contact NLM" at the top of the NLM Customer Support page.
By Karl Wolf, Nicholas Ide, Justin Koufopoulos, Rebecca J. Williams, Tony Tse
National Center for Biotechnology Information