September 26, 2011
[posted]
PubMed Health — A Growing Resource for Clinical Effectiveness Information
PubMed® Health developed further as a resource for clinical effectiveness research with its August and September 2011 releases. Growing from around 200 items based on systematic reviews to over 5,000, PubMed Health has also begun a collection focused on helping people understand systematic reviews and their results. PubMed Health goals are: helping users find the evidence that could answer their questions about effects of health care and helping them understand what they find.
Making Systematic Reviews More Accessible
Systematic reviews that identify and interpret studies on the effects of health care form an essential research basis for informed decision-making. Systematic reviewing has been growing, especially with the advent of The Cochrane Collaboration and the increasing incorporation of this methodology in health technology assessment by public agencies and clinical practice guideline development.
Systematic reviews (including health technology assessments) are often lengthy and highly technical. Their evolution has been accompanied by a growth in knowledge translation activity. Along with traditional abstracts, various forms have been developed to help people use systematic reviews: executive and policymaker summaries, summaries or other forms for patients/consumers and summaries for clinicians.
However, these materials have been scattered widely on content providers' Web sites without being collected centrally. Many of the systematic reviews undertaken by public health technology assessment agencies have also remained outside the National Library of Medicine® (NLM®) system. The PubMed Health initiative is gathering them together within a single searchable resource.
PubMed Health Content
PubMed Health contains systematic reviews and summaries of systematic reviews undertaken or updated in roughly the last ten years. The time limit is applied to publication date of around eight years, to allow for the time lag from the date of the evidence search. The cut-off currently is 2003.
New content incorporated in these releases include summaries from The Cochrane Collaboration and the National Health Service (NHS) National Institute for Health Research (NIHR) Health Technology Assessment Programme. There are also full text reviews from the U.S. Agency for Healthcare Research and Quality (AHRQ), the Drug Effectiveness Review Project (DERP) at Oregon Health & Science University (OHSU), England's National Institute for Health and Clinical Excellence (NICE) guidelines program, and the Department of Veterans Affairs' Evidence-based Synthesis Program. From NHS Choices comes "Behind the Headlines", its educational service on the science behind the news. These new content providers join PubMed Health original consumer clinical effectiveness content for consumers content provided by AHRQ and the German Institute for Quality and Efficiency in Health Care (IQWiG).
The reviews and review summaries now in PubMed Health account for perhaps one-third of the good quality systematic reviews published by public agencies and journals worldwide. Most of the remainder can be found in PubMed "Clinical Queries" Systematic Reviews search which runs simultaneously with a PubMed Health search; those PubMed results are presented as links on the right-hand portion of the results page (see #3 in Figure 4).
Organization
The re-designed homepage (see Figure 1) includes four key sections:
Contents: a complete alphabetical listing of all titles, sorted by type of content.


Behind Headlines: the NHS guide to the science behind health stories in the news.


New & updated: content added in the last 60 days.


Featured reviews: high quality reviews on interesting topics are selected and featured here. "Previously featured reviews" are provided in an RSS feed to which people can subscribe.


Understanding clinical effectiveness: an explanation of clinical effectiveness research along with a section focusing on resources to help people understand systematic reviews and interpret the results.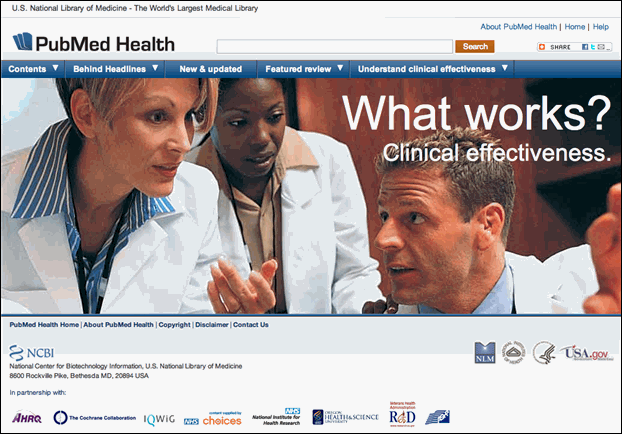 Figure 1: PubMed Health homepage.
A drop-down box under "Contents" (see Figure 2) shows the categories of information currently included in PubMed Health where these are available:
For consumers: includes consumer summaries of systematic reviews as well as consumer information based on systematic reviews.


Executive summaries: executive or policymaker summaries of systematic reviews.


Clinical guides: clinician summaries of systematic reviews as well as clinical practice guidelines that are based on a fully reported systematic review.


Full text reviews: systematic reviews with full texts, including PDF versions.


Medical encyclopedia: medical and drug information for consumers for supplementary background information.


PubMed Health includes content that is currently also cited in PubMed, and PubMed Health will systematically be building in links to these citations. However, there will be some time lag for many items between inclusion in PubMed Health and citation in PubMed. Consumer content from PubMed Health is currently not included in PubMed.
Figure 2: Contents drop-down box.
At the top right-hand corner (see Figure 3), "About PubMed Health" explains the Web site and the National Center Biotechnology Information, NLM, with a full listing of content providers. "Help" includes explanation of basic functions, along with suggested citations for PubMed Health content.

Figure 3: About PubMed Health and Help features.
Searching
The primary search (see #1 in Figure 4) returns clinical effectiveness content by relevance, with the option of viewing all (default) or only specified content types. Relevant medical encyclopedia results are shown at the right (see #2 in Figure 4), with the results of the "Clinical Queries" filter search for systematic reviews in PubMed showing below those (see #3 in Figure 4). "Clinical Queries" returns results chronologically.
Figure 4: Search results.
Additional Features
With medical encyclopedia content, PubMed Health has enhanced the display of anatomical images and given this popular feature a more prominent position. There are links from the medical encyclopedia diseases and conditions pages to MedlinePlus® content.
PubMed Health now features "Add this" sharing for e-mail and social media. Coming in the fall, PubMed Health will begin a Twitter feed, announcing new content providers and features, as well as featured content.
PubMed Health full address: //www.ncbi.nlm.nih.gov/pubmedhealth/
Shortcut: //www.pubmed.gov/health
Customer service contact: pmh-help@ncbi.nlm.nih.gov

Bastian H. PubMed Health — A Growing Resource for Clinical Effectiveness Information. NLM Tech Bull. 2011 Sep-Oct;(382):e9.