NLM's Short-Term Research Education Experiences to Attract Talented Students to Biomedical Informatics/Data Science Careers and Enhance Diversity
https://grants.nih.gov/grants/guide/rfa-files/RFA-LM-22-001.html
The National Library of Medicine supports short-term training and research in biomedical informatics and data science to enhance diversity at twelve (12) educational institutions in the United States. This R25 program supports educational activities that encourage talented undergraduate and master's students, including those from groups underrepresented in the biomedical and behavioral sciences, to pursue further training and careers in biomedical informatics and data science. This program complements NLM's University-based Predoctoral and Postdoctoral Biomedical Informatics and Data Science Research Training Program (see https://grants.nih.gov/grants/guide/rfa-files/RFA-LM-21-001.html) by providing exposure to biomedical informatics and data science to undergraduate and master's students to create a pipeline for future doctoral studies in these fields. With both programs, NLM seeks to develop a cadre of diverse scientists capable of leading biomedical informatics and data science research.
Each R25 program offers training and education in areas related to biomedical informatics and data science that includes clinical informatics, translational informatics, public health informatics, personal health informatics, statistics, and data visualization. In addition, trainees receive extensive mentoring and skills development training that encourages them to pursue further studies and research careers. Each training program makes special efforts to recruit trainees from underrepresented racial and ethnic groups, individuals with disabilities, women, and those from economically, socially, culturally, or educationally disadvantaged backgrounds.
The expected outcome of this program is increased admissions into graduate programs among program participants in research mission areas relevant to NLM. Additionally, it is expected that the R25 programs will lead to enhanced participation of individuals from diverse backgrounds in the biomedical informatics research workforce who can bring their unique experiences, perspective and innovation to address human disease, the public's health and the ethical and social implications of biomedical informatics research. Other desired program outcomes include completion of bachelor's degrees, completion of doctoral programs, and achievement of subsequent research funding, such as an NLM individual fellowship or career development award.
Please contact R25 awarded institutions for questions related to trainee selection, eligibility, program specifics, and levels of support. The location of the NLM R25 training institutions is provided in the map below and additional information using the links to the individual programs.
For general information about NLM's Short-term Research Education Training Programs in Bioinformatics and Data Science to Enhance Diversity, please contact: Meryl Sufian, PhD, sufianm@mail.nih.gov


NLM's Short-term Research Education Training Programs in Biomedical Informatics and Data Science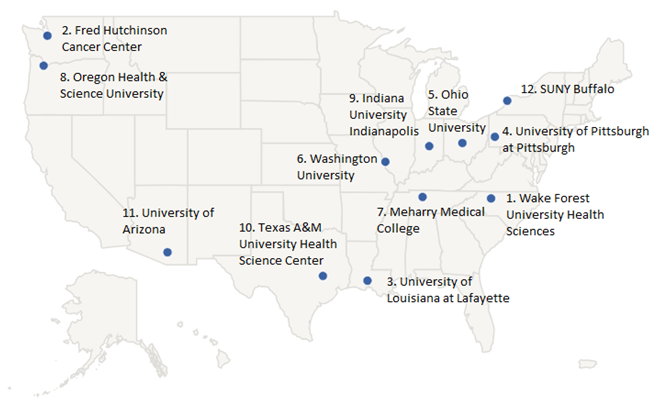 R25 Awarded Sites (Principal Investigator)