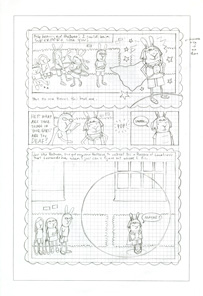 Transcript of original artwork for El Deafo
[Top panel]
Holy hearing aid, Batman! I could be a SUPERHERO like you!
But no one knows this but me.
[Outside of top panel] increase size of me here
[Center left panel]
Hey! What are those things in your ears? Are you DEAF?
[Between panels]
POP!
[Center right panel]
Ummm…
[Bottom panel]
Just like Batman, I've got my own Batcave to retreat to: a Bubble of Loneliness that surrounds me when I just can't figure out where I fit.
[Girl talking] Maybe?