Chan J. PubMed Labs Update: Add Citations to the Clipboard. NLM Tech Bull. 2019 Mar-Apr;(427):e5.
The Clipboard is now available in PubMed Labs, allowing users to temporarily save and collect selected citations from one or more searches. The National Library of Medicine (NLM) is continuing to develop features on the PubMed Labs platform, and this new version of PubMed will eventually replace the current PubMed. See An Updated PubMed Is on Its Way for more information.
Add Items to the Clipboard in PubMed Labs
To add items to the Clipboard from search results, use the "More actions" icon at the top of the page and choose "Send to: Clipboard" (see Figure 1). A drop-down menu of options will display where users may add selected items, all results on the page, or all results to the Clipboard (up to a maximum limit of 500 citations). Individual items can also be added to Clipboard from their abstract page using the "More actions" icon.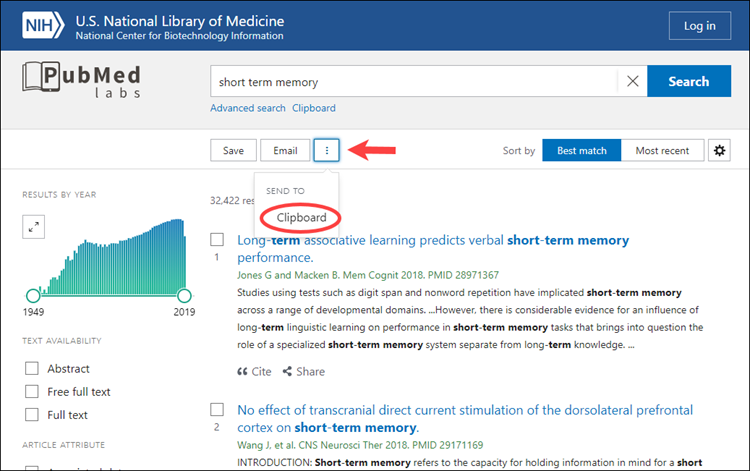 Figure 1: Send citations from search results to the Clipboard.
View and Curate Items in the Clipboard
Navigate to the Clipboard by clicking the "Clipboard" link under the search box (see Figure 2). This link will only appear after one or more items have been added to the Clipboard; the link is not present when the Clipboard is empty.
Figure 2: A link to the Clipboard appears under the search box.
On the Clipboard page, use the check boxes to select items to be saved, emailed, or removed from the Clipboard (see Figure 3). The Clipboard can store up to a maximum of 500 citations at a time and will expire after 8 hours of inactivity. Future updates will add the ability to permanently save items to My NCBI Collections. In the meantime, please use the save or email options to retain results from PubMed Labs.
Figure 3: Select items to save, email, or remove from the Clipboard.
PubMed Labs is under active development and new features will be introduced on a regular basis as we continue to enhance the system. Please note that the absence of a PubMed tool in PubMed Labs does not mean it is planned for elimination.
We welcome your feedback. Please submit your comments, questions, or concerns using the "Feedback" button available on each page of PubMed Labs.