Unger E. DOCLINE 5.0 Released: Introduces Serials Embargo Information. NLM Tech Bull. 2014 Sep-Oct;(400):e8.
The U.S. National Library of Medicine (NLM) released DOCLINE 5.0 on August 27, 2014. DOCLINE is an NLM Web-based system for interlibrary loan of biomedical literature among participating libraries in the U.S. and Canada.
The most notable DOCLINE 5.0 enhancement is the inclusion of interlibrary lending embargo periods within electronic journal serial holdings records (see Figure 1).  The DOCLINE automated request routing algorithm uses the new embargo data as one of the criteria for matching potential lenders with requested articles.  More precisely, the enhancement allows DOCLINE to bypass lenders unable to supply a requested article if the publication date falls within the publisher's embargo periods. This adds greater efficiency and speed to the routing and delivery process.
The new Embargo Period field allows libraries to record the number of months an electronic journal title is embargoed for interlibrary loan, according to publisher license agreements.  When a library requests a citation with a PubMed identifier (PMID), the DOCLINE routing algorithm uses the ePubDate to determine whether a lender can or cannot provide the article dependent upon the lender's license-determined embargo period.
Figure 1: Serial Holdings Edit display with new Embargo Period option.
If a DOCLINE library is a LinkOut via Submission Utility or LinkOut Local participant, DOCLINE automatically defaults to using LinkOut embargo information (see Figure 2). Libraries can manually enter an embargo period for specific title(s) if the LinkOut embargo is different from the interlibrary loan embargo. The LinkOut embargo option is not available for libraries using the Outside Tool.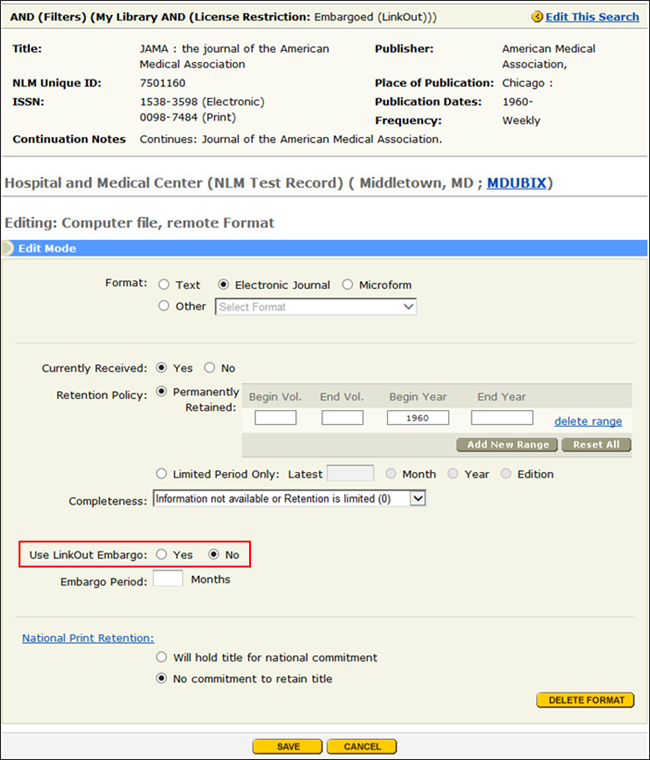 Figure 2: Serial Holdings Edit display with new Use LinkOut Embargo option.
DOCLINE 5.0 also provides new License Restriction (embargo) filters (see Figure 3) for searching serial holdings so libraries can easily retrieve titles with or without embargo periods.  This added functionality will help libraries maintain their holdings records by quickly identifying titles with manually entered embargo periods, titles using LinkOut embargoes, and titles with no embargo period. Libraries can also search by a specific title to view other libraries' holdings and associated embargo periods. However, NLM recommends letting the DOCLINE automated routing identify potential lenders during the Borrow function.  

Figure 3: Serials Search Holdings filters with new License Restriction choices.
DOCLINE 5.0 also includes a new borrowing and lending statistics reporting tool -- a monthly Activity Summary page accessible from within the Institution record (see Figure 4). The summary table shows the number of borrow requests the library placed the previous month, the total number of requests entered into the DOCLINE system during the same period, and the percentage of borrow requests filled by other libraries.  Regarding lending, the Activity Summary page also presents the number of requests routed to the library, how many were removed for non-receipt, the number the library receipted, how many were removed for non-action, and how many were rejected (not filled) and filled. Other data displayed include the library fill rate in comparison to the overall DOCLINE fill rate, and the average days to fill/not fill in contrast to the overall DOCLINE turnaround time. The Activity Summary data are automatically refreshed on the first of every month.  DOCLINE does not retain prior Activity Summary reports; however, libraries planning to use Activity Summary data for monthly statistical reporting may print or copy the data for future reference. 
Figure 4: Institution Activity Summary.
Other noteworthy enhancements included in DOCLINE 5.0 are a new "Ship To" default for certain types of requests, additional sorting options for search results, more variations for data displays, and added support for Internet Explorer 11. DOCLINE support for Internet Explorer 8 is expected to cease before the end of 2014.

See the Release Notes for a complete list of changes in DOCLINE 5.0.