Associate Fellowship Program: Optional Second Year
The Associate Fellowship Program includes an optional second year at a library or information center in an academic health sciences center, hospital, or other health-related organization in the contiguous United States. The additional year provides an opportunity to develop skills and gain experience in working with administrators, librarians, health professionals, system developers, and educators to design and implement information services that are integrated with clinical and/or educational programs and contribute directly to accomplishing the parent institution's mission.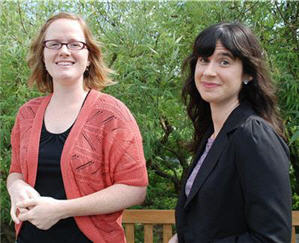 Kristen Greenland, Julie Adamo
Potential project areas include, but are not limited to:
Bioinformatics and/or translational sciences
Clinical librarianship and/or clinical informatics
Outreach to underserved or previously unreached populations
Data curation and data management
Specialized library experience (veterinary, public health, science, history of medicine, archives, etc.)
Instruction and instructional design
Evaluation
Medical ontology/terminology and representation
The Associate will share results of the projects through quarterly written reports, and a formal presentation at the NLM Second Year Colloquium.
Professional development opportunities:
Mentoring - Each Associate is paired with a preceptor at the host library that provides guidance throughout the year. The Associate will also receive support from the Associate Fellowship Coordinator through progress phone calls and site visits.
Conferences and learning activities – The Associate has the opportunity to attend the Annual Medical Library Association Conference, as well as other conferences and continuing education activities of their choice.
Second Year Benefits:
The host library will provide:
- The stipend for the year, at their locally competitive rate for an entry-level librarian
- Health benefits
NLM will provide:
- Funding for professional development activities
- Funding for relocation costs
For additional details, visit the Host Institutions page.
---
Second Year Placements
Below are the list of Associate Fellow second year placements from 1999 to the present.
| | | |
| --- | --- | --- |
| Year | Associate | Institution |
| 2020-2021 | Sharon Han | NNLM PSR, UCLA |
| 2020-2021 | Eden Kinzel | Louise Darling Biomedical Library, UCLA |
| 2019-2020 | Amelia Llorens | Lane Medical Library, Stanford University |
| 2019-2020 | Cecelia Vetter | Strauss Health Sciences Library - Anschutz Medical Campus, University of Denver |
| 2019-2020 | Paije Wilson | Taubman Health Sciences Library, University of Michigan |
| 2018-2019 | Gabrielle Barr | Galter Health Sciences Library & Learning Center, Northwestern University |
| 2018-2019 | Shannon Sheridan | Drexel University |
| 2018-2019 | Nicole Strayhorn | American Dental Association |
| 2017-2018 | Kendra Godwin | NYU Health Sciences Library |
| 2017-2018 | Tyler Moses | Woodruff Health Sciences Center Library at Emory University |
| 2017-2018 | Candace Norton | NIH Library |
| 2016-2017 | Becky Baltich Nelson | Weill Cornell Medical Center, NY, NY |
| 2016-2017 | Loan Nguyen | NIH Library |
| 2016-2017 | Tyler Nix | Taubman Health Sciences Library, University of Michigan |
| 2015-2016 | Ariel Deardorff | University of California, San Francisco (UCSF) |
| 2015-2016 | Erin Foster | Oregon Health & Science University (OHSU) in Portland, OR |
| 2015-2016 | Lori Harris | University of Cincinnati's Donald C. Harrison Health Sciences Library |
| 2014-2015 | Christian Minter | Johns Hopkins University in Baltimore, MD |
| 2014-2015 | Nicole Pettenati | Mayo Clinic in Arizona |
| 2014-2015 | Holly Thompson | Johns Hopkins University in Baltimore, MD |
| 2013-2014 | Diana Almader-Douglas | Arizona Health Sciences Library |
| 2013-2014 | Karen Gutzman | Bernard Becker Medical Library at Washington University |
| 2013-2014 | RoseMary Hedberg | Galter Health Sciences Library at the Northwestern University Feinberg School of Medicine |
| 2013-2014 | Kevin Read | NYU Health Sciences Libraries |
| 2012-2013 | Michele Mason-Coles | Inova Fairfax Hospital Jacob D. Zylman Health Sciences Library |
| 2012-2013 | Suzy Roy | National Institutes of Health Library |
| 2012-2013 | Jessi Van Der Volgen | University of Utah Spencer S. Eccles Health Sciences Library |
| 2011-2012 | Julie Adamo | Johns Hopkins University William H. Welch Medical Library |
| 2011-2012 | Kristen Burgess | University of Cincinnati Donald C. Harrison Health Sciences Library |
| 2011-2012 | Kristen Greenland | OHSU Library at Oregon Health & Science University |
| 2011-2012 | Stephen Kiyoi | University of California, Los Angeles Louise M. Darling Biomedical Library |
| 2011-2012 | Caitlin Sticco | National Library of Medicine Bibliographic Service Division |
| 2010-2011 | MaShana Davis | National Institutes of Health NIH Library |
| 2010-2011 | Yani Yancey | University of Maryland, Baltimore Health Sciences and Human Services Library |
| 2010-2011 | Holly Zerbe | Yale University Cushing/Whitney Medical Library |
| 2009-2010 | Amy Donahue | University of Minnesota Health Sciences Library |
| 2009-2010 | Paula Maez | University of Texas Health Sciences Center at San Antonio Library |
| 2009-2010 | Kathleen Amos | University of Utah Spencer S. Eccles Health Sciences Library |
| 2008-2009 | Emily Vardell | University of North Carolina, Chapel Hill Health Sciences Library |
| 2008-2009 | Kate Flewelling | Inova Fairfax Hospital Health Sciences Library |
| 2008-2009 | Brenda Linares | University of Miami Miller School of Medicine Louis Calder Memorial Library |
| 2008-2009 | Melissa Resnick | National Library of Medicine Library Operations & Lister Hill National Center for Biomedical Communications |
| 2008-2009 | Joanna Karpinski | Vanderbilt University Eskind Biomedical Library |
| 2007-2008 | Marisa Conte | University of Michigan, Ann Arbor Alfred Taubman Medical Library |
| 2007-2008 | Alison Rollins | Uniformed Services University of the Health Sciences James A. Zimble Learning Resource Center |
| 2007-2008 | Robin Featherstone | Yale University Harvey Cushing - John Hay Whitney Medical Library |
| 2007-2008 | Courtney Crummett | Massachusetts Institute of Technology Engineering and Science Libraries |
| 2006-2007 | Lisa Massengale | Johns Hopkins University William H. Welch Medical Library |
| 2006-2007 | Oscencio Tom | George Washington University Paul Himmelfarb Health Sciences Library |
| 2006-2007 | Elizabeth Whipple | Indiana University Ruth Lilly Medical Library |
| 2006-2007 | Mellanye Lackey | University of North Carolina at Chapel Hill Health Sciences Libraries |
| 2005-2006 | Rachel Gyore | Virginia Commonwealth University Tompkins-McCaw Library for the Health Sciences |
| 2005-2006 | Stephanie Dennis | University of Maryland at Baltimore Health Sciences and Human Services Library |
| 2005-2006 | Sandy Tao | University of Washington Health Sciences Library |
| 2005-2006 | Margaret Basket | University of Rochester Edward G. Miner Library |
| 2004-2005 | Theodora Bakker | Georgetown University Dahlgren Medical Library |
| 2004-2005 | Erinn Faiks | University of New Mexico Health Sciences Library and Informatics Center |
| 2004-2005 | Julie Gaines | University of Texas at San Antonio Briscoe Library and Knoweldge Management Center |
| 2004-2005 | Jeffery Loo | Johns Hopkins University William H. Welch Medical Library |
| 2004-2005 | Nancy Pulsipher | The Centers for Disease Control and Prevention Information Center |
| 2004-2005 | Andrea Ryce | University of Washington Health Sciences Libraries |
| 2004-2005 | Lonelyss Charles | University of Massachusetts The Lamar Soutter Library |
| 2003-2004 | Evangeline Alexander | George Washington University Paul Himmelfarb Health Sciences Library |
| 2003-2004 | Marcus Banks | Georgetown University Dahlgren Memorial Library |
| 2003-2004 | Molly Cahall | Vanderbilt University Annette and Irwin Eskind Biomedical Library |
| 2003-2004 | Shannon Jones | Virginia Commonwealth University Tompkins-McCaw Library for the Health Sciences |
| 2003-2004 | Natalie Kamper | University of California, Los Angeles Louise M. Darling Biomedical Library |
| 2003-2004 | Michelle Ochillo | University of Arizona Arizona Health Sciences Library |
| 2002-2003 | Claire Twose | Johns Hopkins University William H. Welch Medical Library |
| 2002-2003 | Cynthia Vaughn | University of Tennessee Preston Medical Library & Learning Resource Center |
| 2002-2003 | Laura Hileman | University of Maryland at Baltimore Health Sciences and Human Services Library |
| 2001-2002 | Jennifer Heiland | University of North Carolina at Chapel Hill Health Sciences Library |
| 2001-2002 | Marlo Young | University of California, San Diego Biomedical and Medical Center Libraries |
| 2001-2002 | Tomeka Oubichon | Tulane University Rudolph Matas Medical Library |
| 2000-2001 | Chandra Doby | Johns Hopkins University William H. Welch Medical Library |
| 2000-2001 | Carmen Harris | University of Pittsburgh Falk Library of the Health Sciences |
| 2000-2001 | Taneya Koonce | Vanderbilt University Annette and Irwin Eskind Biomedical Library |
| 2000-2001 | Heather Wilder | McMaster University Hamilton Health Sciences Library |
| 1999-2000 | Paula Kitendaugh | University of South Carolina School of Medicine Library |
| 1999-2000 | Elizabeth Smigielski | University of Louisville Kornhauser Health Sciences Library |
| 1999-2000 | Mary Beth Schell | University of North Carolina at Chapel Hill Health Sciences Library |
| 1999-2000 | Susan Rondon | University of North Carolina at Chapel Hill Health Sciences Library |
Last Reviewed: September 11, 2020