Associate Fellowship Program: Program Year
The Fellowship is divided into two phases, the first being a structured curriculum and the second being project-based. The curriculum offers an opportunity to learn from the staff at NLM – experts in their fields – about the work they do, why they do it, and the national and international impact of that work.
Fall (September-January)
Curriculum
The purpose of the curriculum is to introduce the Associate Fellows to the depth and breadth of the activities of the National Library of Medicine; to expose them to a broader picture of the impact of NLM on the national and international fields of biomedicine, informatics, and information policy; and to foster an inquisitive approach to learning that will aid them throughout their careers. The curriculum is immersive, contextual, and cumulative, with each successive presentation creating a layered understanding of NLM's mission and its strategic initiatives.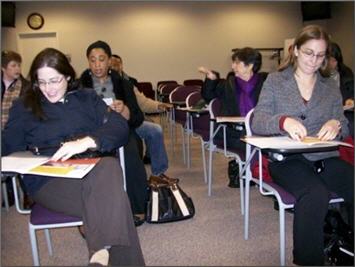 The curriculum is divided into units. The units vary in length, from one day to a whole week, and consist of all-day classes. Staff teach through lectures, discussion, selected hands-on experiences, demonstrations, exercises, and shadowing. Some of the units may include a small amount of homework, and time is provided to complete the assignments during the workday.
The curriculum topics cover the activities of the six major divisions in the Library as well as the Office of the Director:
Library Operations - NLM's founding division, Library Operations, is home to activities that select, acquire, catalog, index, provide access to and disseminate the material in NLM's collection. Library Operations staff present on:
Collection Development
Organization of Information
Document Delivery
Digital Collections
Preservation
History of Medicine
Reference and Web Services
Office of Computer and Communications Systems (OCCS) – OCCS provides data processing and data communications support for all elements of the Library. OCCS staff present a day-long seminar on technology within the NLM environment.
Extramural Research – The Extramural Research staff administer grants for research projects and research training in biomedical informatics. Staff explain type of grant awards made, the grants process, and how grant reviews are conducted.
Specialized Information Services (SIS) – SIS produces information resources on a range of topics, with staff presenting on:
Toxicology resources
Environmental health
HIV/AIDS
Drug and consumer product information
Disaster/emergency preparedness and response
Lister Hill National Center for Biomedical Communications (LHNCBC) – One of two intramural research divisions within NLM, LHNCBC conducts research in the uses of advanced computer and communications technologies to improve the organization, dissemination, and utilization of biomedical information. Lister Hill staff present on their research:
Dissemination of high quality imagery
Medical language processing
High-speed access to biomedical information
Intelligent database systems development
Multimedia visualization
Knowledge management
Data mining
Machine-assisted indexing
Electronic health records to facilitate patient-centric care
National Center for Biotechnology Information (NCBI) – NCBI advances science and health by providing access to biomedical and genomic information. Presentations center on
Genetics databases and tools
Biomedical literature including PubMed, PubMed Central (PMC), and PubMed Health
Office of the Director (OD) – The Office of the Director encompasses overall administration for NLM. Staff present talks on:
Administration
Policy and Standards Development
Communication and Promotion
Fall Project
During the curriculum phase, the Associates will also complete a small project of no more than 40-60 hours' work. It is designed to provide practical experience, additional contact with NLM staff, and in some cases, develop a foundation for a project proposal for Spring Projects. Open time is allowed in the curriculum schedule to work on the project. The project results are shared through a written report.
Spring (February-August)
Spring Projects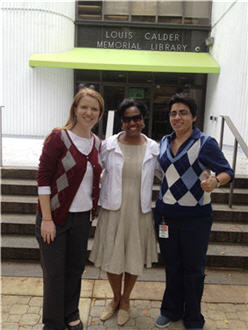 The latter half of the program focuses on individualized projects related to the study, research, and evaluation of NLM programs and services. The purpose of the projects is to create a self-directed course of study and investigation and to meet the challenge of interpreting results for decision-making in a library environment.
Each Associate Fellow:
selects two projects proposed by staff
completes projects of approximately three months' duration
shares project results through

written reports
formal and informal presentations to staff
multimedia presentations
Spring Practicum
Each Associate Fellow participates in a weeklong practicum at a health sciences library of their choice in the contiguous United States. This is an opportunity to observe the operations of another organization positioned as a leader in the field, and to shadow senior staff. Associates share what they have learned through a written report.
Tours
In the Spring, Associate Fellows are responsible for leading the NLM public tours. Each Associate takes a turn approximately once a week. Tour training is provided through the NLM Office of Communication and Public Liaison.
Other Professional Development
Associate Fellows have the opportunity to participate in many professional development activities throughout the year. These activities include:
Mentoring– Each Associate is paired with a preceptor who provides guidance throughout the year.
Conferences – Associates attend at least two conferences each year. Past conferences have included: Annual Medical Library Association Conference, MLA Mid-Atlantic Chapter Meeting, and American Medical Informatics Association Annual Symposium.
Workshops– These workshops include panel presentations and group discussions on topics such as resume writing, salary negotiation, public speaking, project management, and leadership.
Field trips– Several field trips and tours of local libraries and institutions of interest to the Associates are scheduled during the year.
Associates also have the option of working at the reference desk, or representing NLM at a Native American Pow-Wow.
Last Reviewed: May 30, 2014