DOCLINE Log In Steps
---
DOCLINE users need
two
accounts to sign in: A DOCLINE user account, and an external account for identity verification. Most DOCLINE users authenticate (verify their identity) by logging in with Google accounts. Other users, including those at federal libraries or NIH-affiliated Research Organizations, have
alternate methods available
for signing into DOCLINE.
---
First time users:
Make sure the email used in your external account (Google or Gmail, Login.gov, federal SmartCard, or Research Organization network) matches your DOCLINE username.
Verify that you can use your external account to directly log in to Google, Login.gov or your network to make sure the account works successfully outside DOCLINE.
---
(1) Go to
https://docline.gov
.
(2) Select
Log in
to DOCLINE.
(3) On the
NIH Sign in
screen that results, select the
Google
button (labeled 1, below)
-
OR -
the link for your indentity verification method (2 or 3).
Login.gov
or workplace network credential users should choose the
Research Organization
button, then find
Login.gov
or their workplace in the list of available organizations.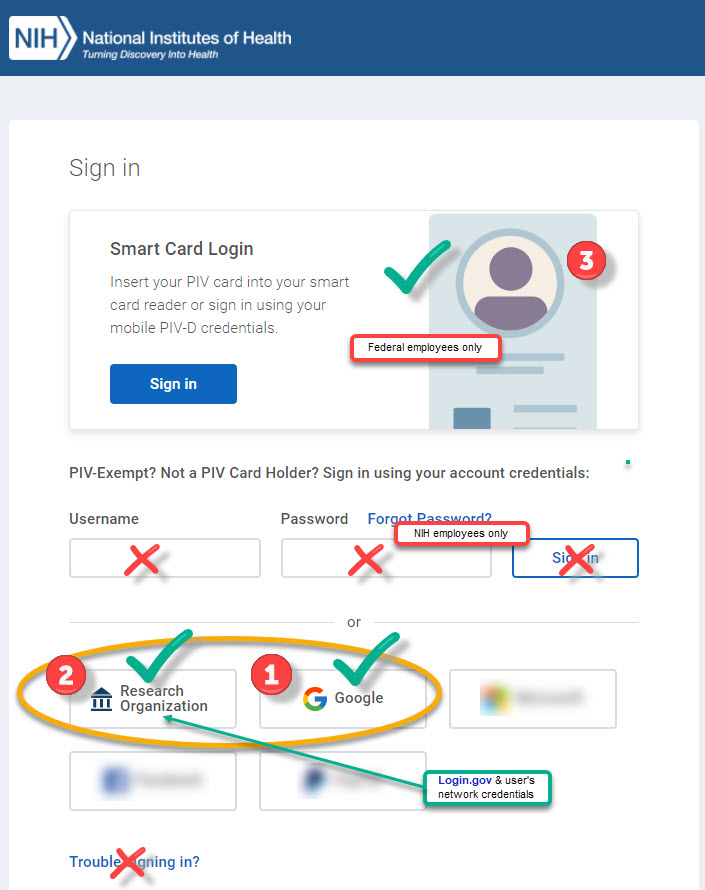 (4) On the Google Account sign in pages, enter the email address and password associated with your Google Account
-
OR -
follow the login prompts for your sign in method.
NOTE: Password and Trouble links are for NIH employees. If you have forgotten your password, follow the prompts on the Google Account pages (or Login.gov) to recover your password. Because your password is not stored in DOCLINE, it cannot be reset within the system or by DOCLINE support.




6) Click NEXT - OR - complete the sign in process for your chosen method.

The DOCLINE Activity & Status area for your library should display. If it does not, please follow the suggested troubleshooting steps before contacting DOCLINE Support for login assistance.


---

NOTE: After initial login, users cannot change login methods without assistance from DOCLINE Support. Users may have additional DOCLINE usernames and separate external accounts with different email addresses for use with alternate login methods.

Last Reviewed: June 28, 2021