---
Dr. Patricia E. Bath | Dr. Matilda Evans | Dr. Richard N. Scott | Vivien T. Thomas, L.L.D.
---
Patricia E. Bath, M.D. is an ophthalmologist, professor of ophthalmology, inventor, and laser scientist. She was the first African American woman physician to receive a medical patent for the invention of a new device and technique for cataract surgery known as laserphaco. She currently holds five U. S. and 5 international patents.
After receiving her medical degree from Howard University College of Medicine in 1968, she completed a fellowship in ophthalmology research at Columbia University in New York, and went on to New York University to become the first African American resident in ophthalmology. During her time at Columbia University, Dr. Bath created a new discipline known as "community ophthalmology" that combines aspects of public health, community medicine, and clinical ophthalmology to offer primary care to underserved populations.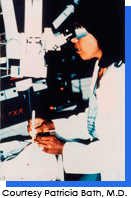 In 1974, she became the first woman ophthalmologist appointed to the faculty of the UCLA Jules Stein Eye Institute. At King-Drew-UCLA she was appointed chair of the ophthalmology program in 1983, and became the first woman chair of an ophthalmology residency program in the United States. After her retirement from UCLA in the 1990's, Dr. Bath became the first woman surgeon appointed to the Honorary Medical Staff of the UCLA Medical Center.
Since her retirement, Dr. Bath has become an advocate of telemedicine and the use of electronic communication to provide medical services to remote areas where medical care is limited. She directed the telemedicine program at Howard University College of Medicine from 1995 to 2000 and was appointed visiting professor of telemedicine at St. George's University in Grenada from 1998 to 2000. In 1999 she chaired the first live international transatlantic telemedicine conference between St. George's University and the University of Illinois.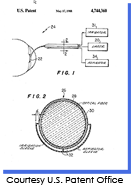 Her lifelong dedication to the protection, preservation, and restoration of sight, led her to co-found the American Institute for the Prevention of Blindness in 1976 with three physician colleagues. Since 2005, she has directed the institute's innovative program to introduce computer and internet technology to blind children at the Mwereni School in Tanzania East Africa.
Throughout her academic and professional career Dr. Bath has been involved in blindness prevention programs and activities. She continues her humanitarian efforts through her service as President of the American Institute for the Prevention of Blindness.
---
Matilda Evans, M.D. was a physician, surgeon, and educator. She was the first African American woman physician licensed in the State of South Carolina and founded the Taylor Lane Hospital in 1901, which eventually became St. Luke's Hospital and Training School for Nurses.
Dr. Evans received her medical degree from the Woman's Medical College of Pennsylvania in 1897, and returned to South Carolina where she established a practice in obstetrics, gynecology, and surgery. Since no medical facilities would allow an African American physician to admit and treat patients, Dr. Evans cared for her patients in her home until she established Taylor Lane Hospital, the first black hospital in Columbia, South Carolina where she treated patients, performed surgery, and trained nurses and other African Americans interested in medical careers.
She was a strong advocate of community medical education and founded the Columbia Clinic Association which provided health care and health education to families. She continued her efforts by establishing the Negro Health Association of South Carolina to provide health education to minority families throughout South Carolina.
---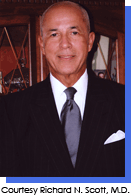 Richard N. Scott, M.D. is a cardiovascular and thoracic surgeon, and professor of surgery. He was the first African American surgical intern at Johns Hopkins University Hospital.
Dr. Scott received his medical degree from Howard University College of Medicine in 1967. After completing his surgical internship at Johns Hopkins University School of Medicine, he went on to complete his general surgery residency at New York University and his cardiovascular thoracic surgery fellowship at George Washington University Medical Center.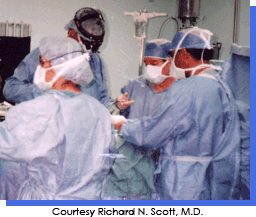 During his career he was appointed senior research associate at the National Heart, Lung, and Blood Institute of the National Institutes of Health where in 1974, with his associates he developed a new stapling technique for bronchial stump closure following a total lung resection. This technique is now recognized as a standard of care.
Dr. Scott was an associate professor of surgery at Morehouse School of Medicine and is a lecturer in the School of Public Health at Morgan State University. He currently holds the position of professor of surgery and physiology at The All Saints University School of Medicine in Aruba. Dr. Scott continues to actively promote screening and prevention of cardiovascular disease among medically challenged communities and mentors minority students for careers in academic surgery.
---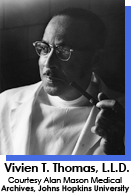 Vivien T. Thomas, L.L.D. was supervisor of surgical laboratories and instructor of surgery at Johns Hopkins University School of Medicine. He was instrumental in the development of the "blue baby" operation in 1944, with surgeon Alfred Blalock and pediatric cardiologist Helen Taussig. This lifesaving operation to correct a congenital heart defect in babies became a major landmark in pediatric cardiac surgery.
Thomas began his career in medicine in 1930, as an assistant in the laboratory of Alfred Blalock at Vanderbilt University where Dr. Blalock trained him as his surgical assistant. Thomas' intelligence and outstanding ability as a researcher and surgical assistant was so impressive, that Dr. Blalock requested Thomas to follow him to Johns Hopkins University in 1941.
During Thomas's long year career at Johns Hopkins, he developed several operative techniques, designed surgical instruments, and supervised the surgical laboratories for over 35 years.
Many of the surgeons Vivien Thomas trained credit him with teaching them the surgical technique which placed them at the forefront of medicine in the United States. His surgical technique was so skilled and flawless, that after examining the nearly undetectable suture line from a complex operation, Dr. Blalock remarked, "Vivien, this looks like something the Lord made."
Although Vivien Thomas never received a formal degree in medicine, his enormous contributions to surgery and surgical education were officially recognized in 1976, when he was awarded the honorary Doctor of Laws degree by Johns Hopkins University. Today his portrait hangs in the lobby of the Blalock Building at The Johns Hopkins Hospital across from the image of Alfred Blalock.