Little Treasures from the Bathtub
"It is good to know that you are interested in some of the leaves which I soaked apart on my knees in front of my bathtub."
(letter from Dorothy M. Schullian to Carol Clausen,
5 June 1980)
The Bathtub collection items are both interesting in themselves and valuable for scholarly purposes. Occasionally a previously unknown text or printed edition is discovered in the binding of a book. More often, the materials shed light on the history of the volume whose binding they comprise. A book published in Lyon in 1525 with a binding made up of printed pages in Dutch and a calendar for 1525, show that the book traveled to the Low Lands soon after its publication. A book published in Venice in 1573 has in its binding several items of the late 16th and early 17th century from southern Germany. However, one must not assume that the binding is contemporary with the book, or the re-used material contemporary with the binding.
But besides their research use, a browse through the Bathtub Collection is a fascinating pasttime. There's no telling what you might find. We invite you to come and have a look.
Here are a few of the items in the Bathtub Collection and the books they once bound. Some of the books have been rebound in modern covers; others have new boards, but the original leather covering was pasted back over them.
The Schullian numbers and pages refer to Schullian's article.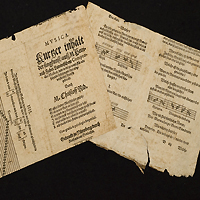 Pages from a German translation of Heinrich Faber's Compendium musicae, an elementary music text,
first printed in Nürnberg in 1591. (Schullian 49, p. 1)
A broadside prayer in German for deliverance from the Turks, the "grim, bloodthirsty enemies," dated 1566, the year the Turks invaded Hungary. Probably printed in Austria. (Schullian 25.4, p.8). Found in: Valerius Cordus. Novum ... dispensatorium. (Venice: Officina Valgrisiana, 1563). NLM call no. WZ 240 C7964d 1563. Tawed pigskin cover, stamped plate with date "1570."
Erasmus' Latin translation of the Old Testament, published in Basel in 1526. (Schullian 34, p. 6). Found in: Jean Fernel. Opera medicinalia. (Venice: Rutilius Borgominerius, 1565). NLM call no. WZ 240 F364 1565. Tawed pigskin cover, stamped plate with date 1566.
A collection of items, most in Dutch or Dutch origin, including two tiny prayer books, a Latin dictionary with the words translated into Dutch, and a Latin grammar book for students studying at Delft. The last two Schullian describes as hitherto unknown to Dutch bibliographers. The prayer books are still in sheets as they came off the printing press. (Schullian 47, p.10): Found in: Antonio Guainerio. Opus preclarum ad praxim non mediocriter necessarium. (Lyon: Constantine Fradin, 1525). NLM call no. WZ 240 G898 1525. Calfskin, blind stamped with diamond pattern.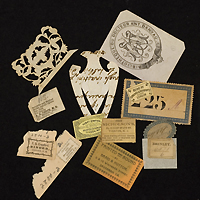 A collection of printers labels, two bookmarks and a bookplate, probably from 19th-century books. Unfortunately, the books were not identified, so the labels cannot shed light upon when and where the books were bound.
Two Latin plays: Hieronymus Ziegler. Dramata sacra duo. Published in Ingolstadt in 1555. One based on St. Matthew's story of the Wise Men and the Slaughter of the Innocents, the other on the Wise Virgins. Performed in Munich in 1552 and 1554. Sheets are as they came off the printing press. (Schullian 100, p. 11) Found in: Johann Jacob Wecker. Antidotarium speciale. (Basel: Peer Dusebium Episcopium, 1577). NLM call no. WZ 240 W387an 1577. Tawed pigskin cover.
Some of the books had their bindings entirely replaced.
A 16th century prayer book. (Schullian 68). Found in: Paulus, Aegineta. Praecepta salubria. (Paris: Henri Estienne, 1510). NLM call no. WZ 240 P333pL 1510.
A 16th-century Latin/English grammar. (Schullian 67, p. 10) Found in: Nemesius, Bishop of Emesa. Peri physeos anthropou. (Antwerp: Christophe Plantin, 1565). NLM call no. WZ 240 N433dn 1565.
Several uncut sheets of playing cards made with wood blocks. (Schullian 85, p.12) Found in: Johann Spremberger. Ein kurtzer und gründlicher Bericht ... wider die pestilentischen Kranckheit. (Breslau: Crispin Scharffenberg, 1555). NLM call no. WZ 240 S768k 1555.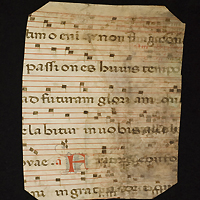 Late medieval chant on parchment. Found in: Ercole Sassonia. Opera practica. (Padua: Franciscus Botzetta, 1639). NLM call no. WZ 250 S252 1639.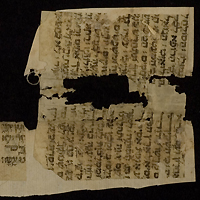 Fragments of a Hebrew manuscript text of Psalms 102-103, written in script of the Italian type, probably 14th century (information from Benjamin Richler, Institute of Microfilmed Hebrew Manuscripts, Jewish National and University Library). Found in: Gentilis Fulginas. Questiones & Tractatus Extravagantes. (Venice: Heirs of Octavian Scotus, 1520). NLM call no. WZ 240 G338q 1520.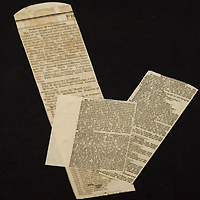 Newspaper clippings from Illinois about the 1858 State election, reporting "a majority of Douglas men elected to the State Legislature" and a quotation from Seward's speech, in which he predicts "an irreconcilable war between sectional interests, which must end in the overthrow of one or the other." Probably preserved between the pages of the book. Found in: Joseph Lieutaud. Précis de la matiere médicale. (Paris, 1770).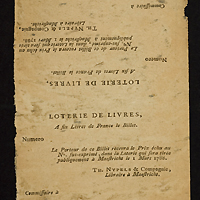 An uncut sheet of tickets for a lottery in Maestricht in 1788. Found in: Andrew Harper. Abhandlung über die wahre Ursache und Heilung des Wahnsinns. (Marburg: Nene Akademischen Buchhandlung, 1792). NLM call no. WZ 260 H281tG 1792.
A 1643 calendar from Nürnberg, issued by the mathematician Abdias Trew, with information about the movement of the planets, saints' days, and medical information. Apparently it was discarded soon after its expiration, because it was used to bind a 1643 book. (Schullian 37, p.23) Found in: Johann Freitag. Kurtzer Bericht von der melancholia Hypochondiraca. (Frankfurt am Mayn: By Caspar Röteln, 1643). NLM call no. WZ 250 F8666k 1643.
The partbook for the lower voice of a collection of the 2-voice sections of 16th-century church music. Other items found in the binding and the watermark of the paper suggest an origin in northwest Bavaria or Hesse in the 1560s or '70s. Though an ownership note on the title page shows that the book was owned by a Johann Wolff in 1574, it was not bound before 1609, the latest date of the items in the binding. This manuscript is of considerable interest and is now in the Library of Congress Music Division. (Schullian 27) Found in: Giovanni Andrea della Croce. Chirurgiae ... libri septem ... (Venice: Giordano Zilletti, 1573). NLM call no. WZ 240 C941c 1573. The volume was given new boards, but the original covering, late medieval chant on vellum, has been pasted over them.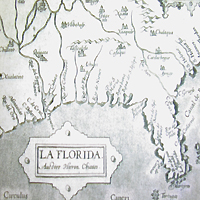 Map of Florida, printed by Abraham Ortelius in Antwerp in 1598. The book from which they were removed is not known, but it is probably a 19th-century book, since the maps are still attached to endpages of, probably, 19th-century paper (Schullian 85, p.12).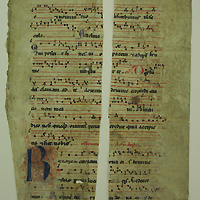 A leaf of late medieval chant, Found in: Giovanni Argenterio. Varia opera de re medica. (Florence: Lorenzo Torrentino, 1550). NLM call no.WZ 240 A689dm 1550.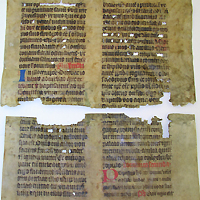 A late medieval manuscript in a carefully written gothic script. The page was turned horizonally and wrapped around the book - the turn-ins are clearly visible. The part that covered the spine is gone, but a slit cut for a sewing cord is still clear. Found in: Giulio Cesare Aranzi. De humano foetu liber tertio. (Venice: Jacobus Brechtanus, 1587). NLM call no. WZ 240 A662 1587.