John Ballard Blake, Ph.D.
1922-2006
Librarian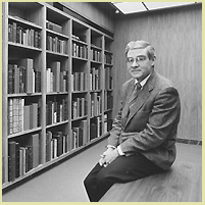 Dr. Blake joined the History of Medicine Division in 1961. At this time, the rare book collection was still in Cleveland, where it had been moved during the Second World War for protection against a possible attack on the Capital. The collection, separated for the first time from the general collections, returned to Washington as part of a new division of the Library, to be housed in its own section of the brand new library building in Bethesda, Maryland. Dr. Blake's first duty was to supervise the packing and to accompany the four vans, guarded by Pinkerton detectives, that brought the books to Bethesda.
John Blake took over a glorious collection of pre-19th century books and manuscripts. However, it was badly organized, with severe difficulties of access. Catalogue records were divided among eleven different files. One of his first projects was to bring them together into a single file and have full catalogue records created. He began the collections of archival papers and modern manuscripts, initiated an oral history program, widened the focus of the collection to include photographs and prints, initiated the annual Bibliography of the History of Medicine, a subject listing of recent publications in the history of medicine, and encouraged to staff to carry out scholarly research in the field of medical history.
During his years as Division Chief, John Blake's scholarly interests turned to bibliography and library history. He wrote and edited several books and essays about medical libraries and about particular works in the History of Medicine Collection.
John was honored by the Library with the NLM Director's Award, the NLM Board of Regents Award for Scholarly or Technical Achievement, and NIH Merit Award.
John Blake's National Institutes of Health Award of Merit, presented in 1982. John Blake receiving the award from William D. Mayer, M.D., chair of the NLM Board of Regents.