John Ballard Blake, Ph.D.
1922-2006
Tree Farmer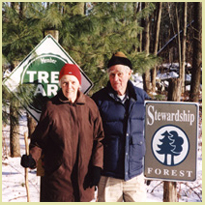 Soon after his retirement in 1982, John Blake and his wife, Jean, moved year-round to the pre-Civil War farmhouse near Frederick, Maryland, which they had used as a weekend retreat for many years. There, at Hornet Hill at the end of Wildcat Road, deep in the woods, John Blake began a second career as a tree farmer. He entered his property in the Forest Stewardship Program to ensure its preservation as woodland, and became an active member of the Frederick County Forest Conservancy District Board and the Maryland Forests Association.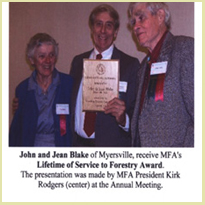 John and Jean Blake of Myersville, receive the Maryland Forests Association's Lifetime of Service to Forestry Award. The presentation was made by Maryland Forests Association President Kirk Rodgers (center) at the Annual Meeting.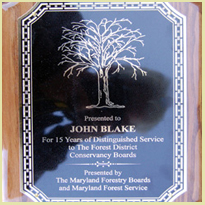 Award presented to John Blake for 15 years of distinguished service to the Forest District Conservancy Boards.
Award for Lifetime of service to forestry awarded to John and Jean Blake, Myersville, MD from Maryland Forests Association.