Posters Promoting BCG (Bacille Calmette-Guérin) Vaccination
种卡介苗宣传画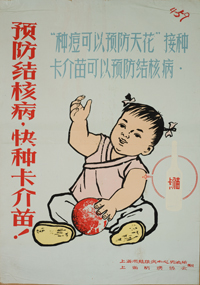 Take BCG Vaccines Quickly to Prevent TB
预防结核病, 快种卡介苗
Smallpox vaccine can prevent smallpox, and BCG vaccine can prevent TB.
The Central Tuberculosis Prevention Institute of Shanghai and the Shanghai Anti-Tuberculosis Association, n.d., ca. 1963.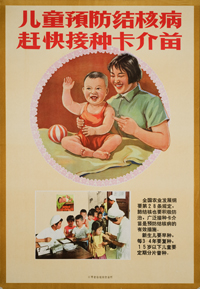 To Protect Children from TB, Come and Get BCG Vaccines Quickly
儿童预防结核病 赶快接种卡介苗
The Outline of Agricultural Development made clear the universal use of BCG vaccines to prevent TB among children and infants.
Tuberculosis Prevention Institute of Jiangxi Province, n.d., ca. 1963.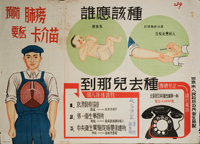 Take BCG Vaccines to Prevent TB.
预防肺痨, 要种卡介苗
Who should take it, and where to take it? See phone numbers and addresses.
Public Health Bureau of the People's Administration of Beijing, n.d., ca. 1950.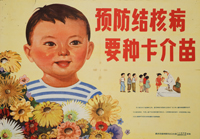 To Prevent TB,
We Must Have BCG Vaccines
预防结核病, 要种卡介苗
BCG vaccines make us immune to tubercle bacilli and are effective in preventing TB.
Health Education Office and the TB Hospital of the Health Bureau of Nanjing Municipal Revolutionary Committee, n.d., ca. 1978.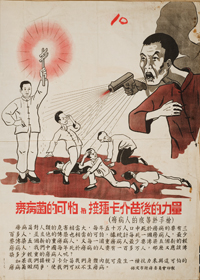 The Horror of Tubercle Bacilli and the Power of BCG Vaccines.
痨病菌的可怕
与接种卡介苗后的力量
The phlegm of the TB patient is like a gun that kills people, and BCG vaccines are like the sun that protects people's health. (This poster is part of an anti-TB series.)
The Anti-Tuberculosis Committee of Baoding City, n.d., ca. 1950.