Four Series of Anti-Tuberculosis Posters
防治肺结核病宣传画系列
A Series of Anti-Tuberculosis Posters from Shanghai Anti-Tuberculosis Association
上海防治肺结核病宣传画系列
Series D, page 1.
This large series of anti-TB posters was produced by the Shanghai Anti-Tuberculosis Association. All the posters came out in November 1953 except the first two, which were printed in June 1954. The dates are significant, because the later posters cast public health as an integral part of the first Five-Year Plan of 1953–1957, and emphasized the "four principles" of national health work that became the key health policy under Mao Zedong.
Shanghai Anti-Tuberculosis Association, 1953-1954. (5000 copies were printed)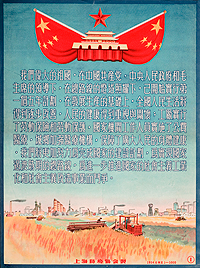 The first Five-Year Plan stated that as industrial production developed, factories would have labor insurance and labor protection, government employees would have free medical care, and health facilities would be strengthened to protect people's health in cities and the countryside.