Four Series of Anti-Tuberculosis Posters
防治肺结核病宣传画系列
A Series of Anti-Tuberculosis Posters from Shanghai Anti-Tuberculosis Association
上海防治肺结核病宣传画系列
Series D, page 6.
Prevention of Tuberculosis
肺结核病的防治
Spit into a bottle or a handkerchief; boil them for 20 minutes and then clean them up. If you spit into paper, burn the paper.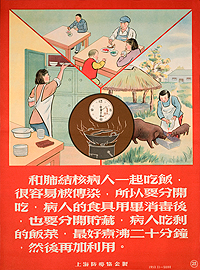 Disinfect and separate the utensils of
the patient. The food left by the patient
should be boiled for 20 minutes before feeding it to pigs.