Cultural Revolution Era: Politically Charged Images
破旧立新,移风易俗
Study the theory and grasp the party line: practice family planning for the consolidation of proletarian rule.
志在农村
Having children according to plan leaves parents with more time and energy to teach their children. The nation and the working unit can also properly arrange their work and study to make them well-educated workers for socialism.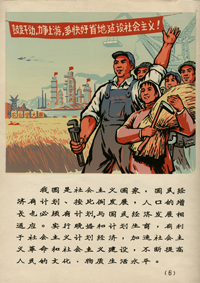 多快好省地建设社会主义
Population increase must be planned along with economic planning. Late marriage and birth control benefit socialist planned economy and socialist reconstruction to increase people's material and cultural lives.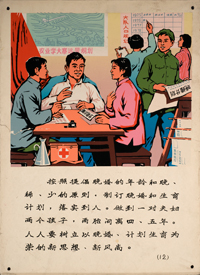 赤脚医生与大队领导制定人口规划
A barefoot doctor discusses family planning program with leaders of the production brigade in the commune. They try to educate villagers to marry late and have no more than two children.