History of Medicine

A Monstrous Mate
I demand a creature of another sex, but as hideous as myself. . . . It is true, we shall be monsters, cut off from all the world; but on that account we shall be more attached to one another. Our lives will not be happy, but they will be harmless, and free from the misery I now feel. Oh! my creator, make me happy; let me feel gratitude toward you for one benefit! Let me see that I excite the sympathy of some existing thing; do not deny me my request!
The Monster to Victor Frankenstein
Frankenstein; or, The Modern Prometheus, 1818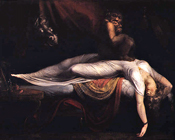 The Nightmare
, 1781. Henry Fuseli (1741-1825). Photographic reproduction of an oil painting on canvas. Courtesy © 1997 The Detroit Institute of Arts, Founders Society Purchase.
Victor Frankenstein initially agrees to create a mate for his monster. But as Frankenstein begins to assemble an Eve for his Adam, he grows terrified by the prospect that this female creature will be "ten thousand times more malignant" than her companion, and that the two might themselves produce "a race of devils." Breaking his promise to the monster, Frankenstein disposes of the body parts he gathered to produce the female creature. Inflamed with hatred, the monster sets outs to destroy in Frankenstein's life all that he coveted for his own. After killing Clerval, Frankenstein's best friend, the monster murders Elizabeth, Frankenstein's bride, on their wedding night.