History of Medicine

The Spark of Life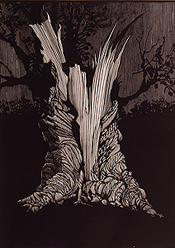 The Blasted Stump
, 1984. Barry Moser (b.1940). Photographic reproductions of wood engravings from
Frankenstein; or, The Modern Prometheus
. Courtesy of Pennyroyal Press, 1984.
I beheld a stream of fire issue from an old and beautiful oak . . . and so soon as the dazzling light vanished the oak had disappeared, and nothing remained but a blasted stump. . . . I eagerly inquired of my father the nature and origin of thunder and lightning. He replied, "Electricity."
Victor Frankenstein to Robert Walton
Frankenstein; or, The Modern Prometheus, 1818
In Mary Shelley's day, many people regarded the new science of electricity with both wonder and astonishment. In Frankenstein, Shelley used both the new sciences of chemistry and electricity and the older Renaissance tradition of the alchemists' search for the elixir of life to conjure up the Promethean possibility of reanimating the bodies of the dead.