History of Medicine

Unveiling the Recesses of Nature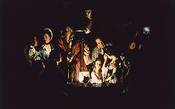 Experiment with an Air-Pump
, ca. 1768. Joseph Wright (1734-1797). Photographic reproduction of an oil painting. Courtesy of The Granger Collection, New York.
The modern masters promise very little. . . . but these philosophers. . . have indeed performed miracles. . . . They have discovered how the blood circulates, and the nature of the air we breathe. They have acquired new and almost unlimited powers; they can command the thunders of heaven, mimic the earthquake, and even mock the invisible world with its own shadows.
Professor Waldman to his class at the University of Ingolstadt
Frankenstein; or, The Modern Prometheus, 1818
By the early nineteenth century, philosophers like physician Erasmus Darwin and chemist Humphry Davy, both well known to Mary Shelley, pointed the way to mastery of the physical universe. Discoveries about the human body and the natural world promised the dawn of a new age of medical power, when such things as reanimation of dead tissue and the end of death and disease seemed within reach.