"THE FOUR PESTS" POSTERS.
除 "四害" 宣传画
见害就除,积极防病,人人与 病害作斗争
Everyone struggles against diseases and pests.
Education Office of the Ministry of Health, May 1960.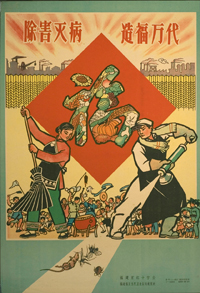 除害灭病,造福万代
Eradicate pests and diseases and build happiness for ten thousand generations.
Red Cross and the Health Propaganda Office of the Health Department of Fujian Province, September 1960.