---
Robert Hooke (1635-1703) was the great pioneer, but he was not alone. There had been a few who attempted what Hooke would famously accomplish, and many others who would follow, expanding and refining what Hooke had done by reading the tracts he left for them. Henry Power published before Hooke, but Power's book has only a few crude woodcuts. William Derham edited some of Hooke's works posthumously, including illustrations never before published.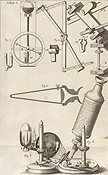 Diagram of Hooke's microscope
from Micrographia: or some Physiological Descriptions of Minute Bodies made by Magnifying Glasses.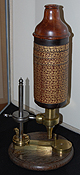 Replica of a microscope built and used by Robert Hooke.
Courtesy National Museum of Health and Medicine, Armed Forces Institute of Pathology.
Henry Baker drew precise plans for building microscopes that clearly used Hooke's instrument as their inspiration. He published them in The Microscope Made Easy, London . See the LocatorPlus catalog record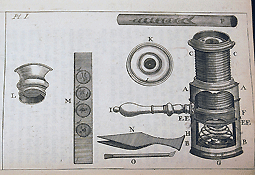 Mr. Wilson's single pocket-microscope
Plate I
The Microscope Made Easy
London, 1742

The double reflecting microscope by Mr. Culpeper and Mr. Scarlet of Mr Marshall's large double microscope
Plate III
The Microscope Made Easy
London, 1742