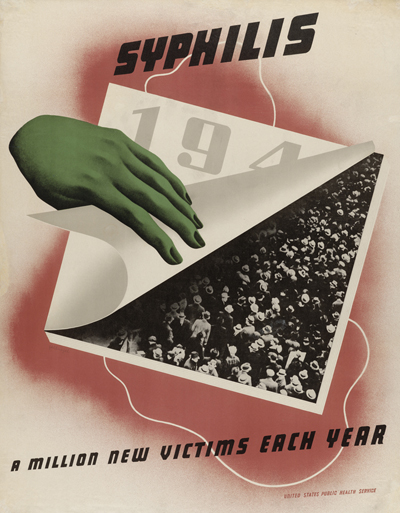 Syphilis: A million new victims each year.
U.S. Public Health Service, United States, mid-1940s.
Photomechanical print: color; 56 x 71 cm. Artist:
Dorothy Darling Fellnagel (1913 – 2006).
A dark hand opens a calendar to reveal a photograph of a swarming crowd. Underneath, the outline of an amoebalike blob overlays a shadowy field of red.


Don't worry about what you'll pick up at work.
Health Education Authority, Great Britain, 1980s.
Photomechanical print: color; 60 x 42 cm.
A series of ominous photos of darkly lit human hands touching or grasping for objects commonly used in the workplace. The caption reassures the public that hands and the objects they touch are not carriers of the AIDS contagion.