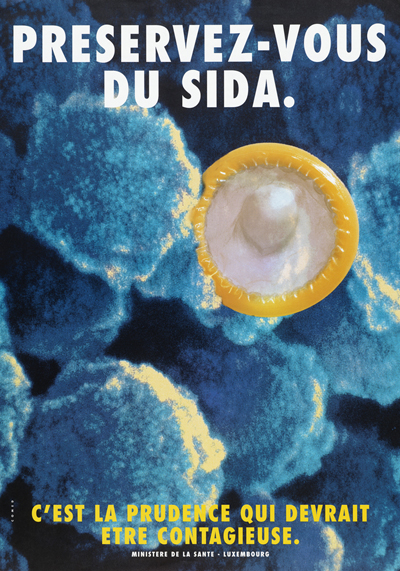 Preservez-vous du SIDA (Save yourself from AIDS.)
Ministry of Health, Luxembourg, ca. 1990.
Photomechanical print: color; 42 x 60 cm.
T-cells infected with retrovirus as vector, juxtaposed with condom. Caption below reads "C'est la prudence qui devrait être contagieuse" ("It's prudence which should be contagious").


Unforgivable mistakes. (Tuberculosis bacilli.)
China Anti-Tuberculosis Association, Shanghai, China, 1935. Photomechanical print: color; 12.7 x 19 cm.
Translation: "Mistakes are difficult to avoid. Mistakes can be corrected once people realize their errors; and people can be forgiven, if the mistake is not committed again. In spite of government efforts, the average person still does not think spitting is wrong. Any time, any place. Spit once, spit again. Not only does this lack public morality, but, if the phlegm contains the TB bacillus, this can spread thousands upon thousands of bacilli. Spit, on the ground, or on common tools, is inhaled into the lungs. People next to you don't know or feel it, but can catch the disease. TB is rampant in our country because of the error of spitting anywhere. This is unforgivable! If you have the habit…, please stop doing it. Spit into a handkerchief and boil it, or spit into paper and burn it. This not only ensures virtue but is a gift to mankind."