Cover coughs and sneezes.
National Tuberculosis Association, United States, ca. 1962.
Photomechanical print: color; 32 x 44 cm. Artist: Stevan Dohanos (1907 – 1994).
A young girl covers her mouth and nose with a tissue to prevent disease germs from spreading.
Reprinted with permission ©2007 American Lung Association. For information about the American Lung Association or to support the work it does, call 1-800-LUNG-USA (1-800-586-4872) or log on to http://www.lungusa.org.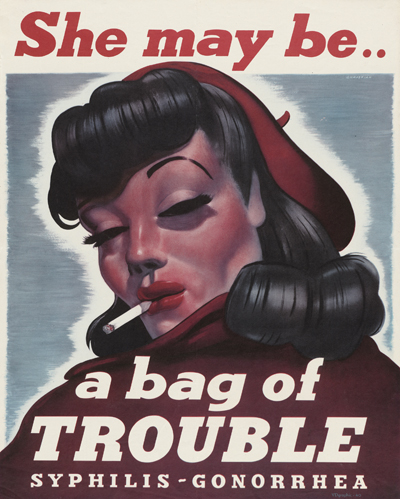 She may be…a bag of TROUBLE. Syphilis – Gonorrhea.
U.S. Public Health Service, United States, 1940s.
Photomechanical print: color; 41 x 51 cm. Artist: "Christian."
A sultry, heavily-made-up woman squints provocatively, while smoking a cigarette. WWII posters usually addressed men — and figured promiscuous women as the source of contagion.