Sailing...
…there was a great deal of pleasure in accomplishing something without any help from anyone.
Stanley Jablonski on his 1963 trip across the Atlantic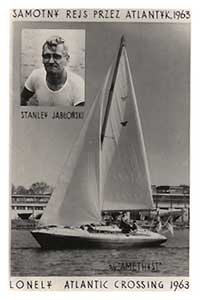 May 31 to September 14, 1963:
107 days, 6000 miles
Sailing consumed Stanley Jablonski's free time. As a young man he had traveled the world in the merchant marine. Later, after becoming a librarian and husband, he and Lucille would often see sailboats at Annapolis and on the Chesapeake and Stanley would tell her that sailing looked like something he'd like to learn.
In the early 1960s after some untrained exploits on the water, he took piloting lessons from the Potomac River Power Squadron on the Chesapeake. Soon he wanted a boat of his own. He admired a 30-foot sloop, a type known generically as "Amethyst," and learned that it was made in his native Poland. In 1963 Stanley decided to buy one. He picked it up personally from the boatbuilders in Poland and set out to sail it home to America.
He left Gdansk on May 31, 1963. One hundred and seven days later he arrived at Norfolk, Va. The accompanying map outlines his route and provides details of some of the more interesting occurrences along the way.
Sailing remained a singular passion of his for the rest of his life. He owned and sailed a succession of boats over the years. In 1973 he even duplicated his transatlantic feat. Even after he stopped sailing in the 1980s Stanley still subscribed to sailing magazines, eagerly devouring each new issue as he received it.
Gdansk, Poland – May 31
He departed in his 30-foot sloop, Amethyst. For navigation he had a compass, charts, and a portable transistor radio.
Baltic Sea - June
East Germans boarded the 'Amethyst,' accusing Jablonski of entering territorial waters.
Baltic Sea, near Kiel Canal - June
High winds and rough seas splintered his mast. His ship had no lights. He shot 25 distress rockets but none of the passing ships stopped. Finally a German ship offered to tow him to shore. But this would have given them salvage rights to his boat. All Stanley wanted was directions. Since he refused a tow "they refused to tell me in which direction to go. They left me there."
Denmark & Holland - June
Somehow, Stanley managed to find his way. Danish villagers helped him replace his mast. In Zeebrugge, Holland he made final repairs.
Weymouth, England – June or July
He had intended to take the northern route across the Atlantic, but rough conditions in the English Channel changed his mind. "It was so cold my hands ached for days." While at Weymouth a stranger gave Stanley a direction finder to add to his navigational tools.
Canary Islands - July
As he approached the Canary Islands marine growth on his hull had reduced his speed to 2 knots. He stopped at Las Palmas to scrape it off. "It looked like spinach…it even smelled – and tasted – like spinach." He left the Canaries on August 1.
Atlantic Ocean - August
While crossing the Atlantic, he found that he hadn't accounted for the weather's rapid deterioration of his clothing. One solution was to sail in the buff, although as he said, "I had to be on the lookout for ships."
Atlantic Ocean – August
On two occasions, high winds blew Stanley's glasses off his head and into the sea. Fortunately he had brought along a third pair.
Atlantic Ocean – August 24
By monitoring his transistor radio for news broadcasts, Stanley heard about Hurricane Beulah. One weather report gave enough information about its course for Stanley to realize that he couldn't entirely avoid it. About 1000 miles from the U.S. coastline he encountered rain that "appeared to rush horizontally, like a huge waterfall gone mad" and a wind with a "roar that drowned out every other sound" and "seemed to blow on forever."
North Carolina Coast - September
Storms so thoroughly inundated his boat off Cape Hatteras that he slept wet for 2 nights. On the 3rd night couldn't even sleep.
Virginia Coast - September
Used transistor radio and direction finder to locate the lightship 'Chesapeake,' which sailed at the mouth of Chesapeake bay. A pervasive daytime fog almost caused him to collide with the lightship.
Virginia Coast – September 14
Off Ocean View, Va. a 30-knot northeaster severed his anchor line during the night. Several days earlier his auxiliary engine had died. To Stanley's great disappointment, the Coast Guard towed the 'Amethyst' the final few miles to Norfolk.