The Man
"If there's a gap that I've noticed in the medical reference materials, I ask myself
'Why doesn't somebody do this work?' And then I realize that I should do it myself."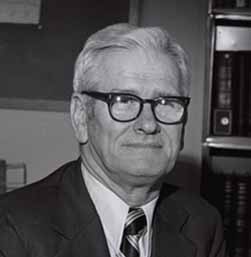 Stanley Jablonski said that he had a natural curiosity and that he liked to go into depth with things. With such a predisposition it's no surprise that he developed into an accomplished, some say unequalled, indexer. Born in Poland, Jablonski eventually made his way to America. In 1949 he was hired by Claudius Mayer as an indexer in the Army Medical Library's Bibliographic Services Division.
Though he lacked the advanced education of most of his peers, Stanley excelled at his work and was rewarded with recognition and advancement. He could index medical literature in 10 languages. In 1955 he conceived a project to produce a bibliography of Slavic medical literature produced in the previous decade. For this he received a Meritorious Civilian Service Award from the Library.
In the ensuing years Jablonski continued producing medical indices and dictionaries, totaling seven before his retirement. He played an active part in the development of Medlars and became head of the Index Section. While leading the Index Section, he presided over the Library's initial experiment in hiring contract indexers. By 1976 he oversaw 40 indexers.
Upon his retirement in 1976, Mr. Jablonski received the NIH Director's Award for his career as an indexer and scholar. He had already been given the Board of Regents Award for Scholarship or Technical Achievement in 1971 for producing his Illustrated history of eponymic syndromes.
The thought of inactivity held no allure for Jablonski, so immediately after retiring he secured a scholar's study carrel in the Library. For the next 28 years he was a constant presence, arriving daily as if he had never retired. During this period of his life he compiled seven more works of lexicography and indices, including five editions of his Dictionary of medical acronyms. He was working on a book about cholesterol when he was taken ill and died in August 2004.