---


Unicorns are magical creatures featured frequently in the Harry Potter series. Several of the main characters have wands made with unicorn hair, including Harry's best friend Ron Weasley, classmate Neville Longbottom, and fallen hero Cedric Diggory. In addition to unicorn hair being used in wands and potions, the evil Lord Voldemort uses unicorn blood in Harry Potter and the Philosopher's Stone to keep him alive.
In traditional lore it is actually the horn of the unicorn that was magical. Many believed that a unicorn's horn had the ability to neutralize poisons. Some courts would make ceremonial cups from "unicorn horn" to prevent poisoning. This "unicorn horn" probably came from the narwhal, a tusked sea mammal.
From antiquity to today, accounts of unicorns and their magical properties are found in literature, art, and legend. Unicorns are included in the royal coat of arms of the United Kingdom, where the Harry Potter stories are set.
The title of the first book in the Harry Potter series refers to the Philosopher's Stone, a magical object that provides unlimited wealth and immortality to whomever possesses it. The evil Lord Voldemort who is thought to be dead, attempts to steal the Philosopher's Stone, so he can regain life and power over the witches and wizards of the world.
While Harry Potter is fictional, many alchemists spent their lives trying to create the Philosopher's Stone. Sir George Ripley's, A Treatise of Mercury and the Philosopher's Stone, documents one such quest. Ripley, a 15th century Englishman, wrote many well known texts on the Philosopher's Stone. Sir George's enormous wealth convinced many in his time that he had, in fact, discovered the stone.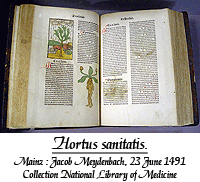 Mandrake is the common name for the plant genus Mandragora. All parts of the mandrake are poisonous, though its roots have been used in magic rituals. Mandrake roots appear to have arms and legs and resemble the human body. In fact, in many botanical texts, the mandrake root is drawn in the form of a human. Legend also says that when a mandrake root is pulled from the ground, it releases a scream fatal to any listener.
In Harry Potter, the mandrake is re-imagined when ear-muffed Harry and his classmates must re-pot young mandrakes—living, crying, and biting babies—in their Herbology class.