Henry Harrison was sentenced to death by hanging for the murder of Dr. Andrew Clinch, who had loaned a large sum of money to Harrison's friend, a widow, and had evicted her when she failed to repay him. Typically, many 17th- and 18th-century murder pamphlets take the form of the last words or confession of a person who has been sentenced to death.
---

The last words of a dying penitent: being an exact account of the passages...on which was grounded the first suspicion of his being concerned in the...murder of Dr. Clinch... Written with his own hand after condemnation... Author: Henry Harrison. 31 pp. (London, 1692).
NLM Unique ID: 2361055R
See the LocatorPlus record

Four pamphlets on the case of Mary Blandy, who was hanged in 1752 for poisoning her father with arsenic in Oxford, England. Francis Blandy had disapproved of his daughter's relationship with Captain William Cranstoun.
---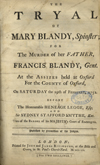 The tryal of Mary Blandy, spinster; for the murder of her father, Francis Blandy, gent. At the assizes held at Oxford.. on Saturday the 29th of February, 1752. Before the Honourable Heneage Legge, Esq.; and Sir Sydney Stafford Smythe...Published by permission of the judges. 46 pp. (London, 1752),
NLM Unique ID: 2449071R
See the LocatorPlus record
---
Capt. Cranstoun's account of the poisoning [of] the late Mr. Francis Blandy, of Henley upon Thames, Oxfordshire: declared solemnly by him before he died, at Furnes, in Flanders, on the 30th of November last. In which are contained some particulars of his private marriage with...Miss Blandy; and copies of three letters from the said Miss Blandy, to him...With an account of Mr. Cranstoun's distresses, from the time he absconded to his death... 17 pp. (London, 1752).
NLM Unique ID: 2751483R
See the LocatorPlus record
---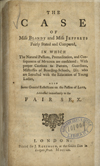 The Case of Miss Blandy and Miss Jeffreys fairly stated and compared, in which the natural passions, premeditation, and consequences of murder are considered ...also some general reflexions on the passion of love, addressed immediately to the fair sex. 28 pp. (London, 1752).
NLM Unique ID: 2461062R
See the LocatorPlus record
---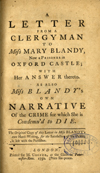 A letter from a clergyman to Miss Mary Blandy, now a prisoner in Oxford Castle; with her answer thereto. As also Miss Blandy's own narrative of the crime for which she is condemn'd to die... Author: Mary Blandy, William Stockwood. 26 pp. (London, 1752).
NLM Unique ID: 2751482R
See the LocatorPlus record
1 OF 12