In June 1874, firemen putting out a blaze at a house in Rutland, Vermont discovered the body of Ann Freeze, a 27-year-old prostitute. Freeze's throat had been cut, her body had several stab wounds, and her jewelry was missing. Suspicion fell on John P. Phair, a handsome young mechanic with a criminal record, who had been Freeze's lover. Phair went into hiding, but was discovered attempting to pawn goods stolen from Freeze. He was arrested for murder and found guilty and sentenced to be hanged. New evidence came to light, and the Governor granted Phair several reprieves. He was finally hanged in 1879, after almost five years on death row.
---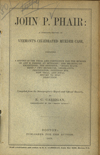 John P. Phair: A complete history of Vermont's celebrated murder case: Containing a report of the trial and conviction for the murder of Ann E. Freeze, at Rutland, the hearing on exceptions, the sentence, "dying statement," two reprieves, legislative proceedings, petitions for new trial, and final effort to stay execution. Compiled from the stenographer's report and official records, by E.C. Carrigan. 112 pp. (Boston, 1879).
NLM Unique ID: 101480819
See the LocatorPlus record
In 1879, 22-year-old Mary Stannard was found clubbed and poisoned, with her throat was slit. Reverend Herbert Hayden was charged with the murder. Hayden had gotten to know Stannard because he had counseled her after she had a child out of wedlock. He was married and had several children, who Stannard had occasionally taken care of. At trial, it came out that before the murder Hayden had purchased some arsenic and that Stannard was pregnant. It also came out that many people believed that Hayden was having an affair with Stannard. The prosecution's case was based solely on forensic evidence and Hayden's wife perjured herself to protect her husband. Despite the testimony of medical experts, the jury could not agree on a verdict, and Hayden was acquitted.
---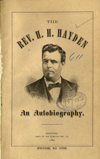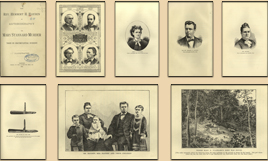 The Rev. Herbert H. Hayden; an autobiography. The Mary Stannard murder; tried on circumstantial evidence... Author: Herbert Hiram Hayden. 164 pp. (Hartford, CT, 1880).
NLM Unique ID: 28410780R
See the LocatorPlus record
11 OF 12