In January 1765, in the town of East Miln, Scotland, nineteen-year-old Katharine Nairn married forty-year-old Thomas Ogilvie. She soon fell in love with his younger brother Patrick. In June 1765, Thomas Ogilvie died, after a sudden terrible illness. Katharine and Patrick were arrested and convicted of murder by poisoning. Patrick Ogilvie was hanged, but Nairn's hanging was delayed when she was found to be pregnant. She took the opportunity to escape from prison and fled to Holland.
---
The trial of Katharine Nairn and Patrick Ogilvie, for the crimes of incest and murder: containing the whole procedure of the High Court of Judiciary, upon the 5th, 12th, 13th, 14th, 15th, and 16th days of August 1765. 134 pp. (Edinburgh–London, 1765).
NLM Unique ID: 2721544R
See the LocatorPlus record

In 1765, London midwife Elizabeth Brownrigg took in two apprentices. The girls were severely abused by Brownrigg and her husband, and one of them, Mary Clifford, was found locked in a cupboard with sores all over her body, lash marks around her neck, and her mouth so swollen she was unable to speak. Clifford was taken to a hospital where she died. At trial, Brownrigg was identified as the principal culprit, found guilty of murder and sentenced to be hanged. She confessed her guilt on the scaffold. After the hanging, her body was dissected and her skeleton was put on display in Surgeon's Hall.
---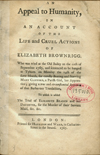 An appeal to humanity, in an account of the life and cruel actions of Elizabeth Brownrigg. Who was tried at the Old Bailey..., and sentenced to be hanged at Tyburn…for cruelly [sic] beating and starving Mary Clifford...her apprentice...To which is added The Trial of Elizabeth Branch and her daughter, for the murder of their servant maid... 64 pp. (London, 1767).
NLM Unique ID: 2436061R
See the LocatorPlus record

In a case that aroused much controversy, in September 1808, Liverpool merchant Charles Angus was accused of poisoning Margaret Burns, his deceased wife's half sister and his children's governess. Burns was believed to be pregnant at the time of her death and Angus was charged with attempting to induce an abortion through the use of oil of savin, a poison. Medical experts testified that, upon autopsy, no significant amount of the poison could be found in the body. Angus was found not guilty.
---
The trial of Charles Angus, esq. on an indictment for the wilful murder of Margaret Burns, at the Assizes held at Lancaster, on Friday 2d Sept. 1808. 288 pp. (Liverpool, 1808).
NLM Unique ID: 28320100R
See the LocatorPlus record
2 OF 12