On May 11, 1812, in the British House of Commons, John Bellingham shot and killed Prime Minister Spencer Perceval. At trial, Bellingham did not deny his guilt, but argued that extenuating circumstances, his failed business dealings and imprisonment in Russia and the British government's refusal to grant him compensation, had driven him to murder Perceval. The defense claimed that Bellingham acted out of insanity, but the insanity plea was denied. Bellingham was found guilty and executed.
---

The trial of John Bellingham for the wilful murder of the Right Hon. Spencer Perceval, in the lobby of the House of Commons, on…the 11th of May, 1812…and the recorder's impressive speech on pronouncing sentence of death, after the jury had returned a verdict of guilty. Also, an impartial and copious detail of every particular prior to the trial; his deportment in prison; and an account of his execution, which took place on Monday, the 18th of May, 1812, before the Debtor's door of Newgate. 34 pp. (Hull, England, 1812).
NLM Unique ID: 28320550R
See the LocatorPlus record
---
A full and authentic report of the trial of John Bellingham, Esq. at the Sessions' House, in the Old Bailey, on Friday, May 15, 1812, for the murder of the Right Honourable Spencer Perceval. Taken in short hand by Thomas Hodgson. 96 pp. (London, 1812).
NLM Unique ID: 28320540R
See the LocatorPlus record

In London in 1815, Elizabeth Fenning, a 20-year-old maid, was arrested for intent to commit murder. Charlotte Turner, her mistress, had discovered Fenning in a state of partial undress in the apprentices' room and reprimanded her; Fenning resented the reprimand. Sometime after that, Fenning made strange-looking dumplings for the Turner family and apprentices. All who ate them became ill, including Fenning. Upon examination, it was found that the dumplings contained arsenic. At trial, Fenning was found guilty and sentenced to die, despite her assertions of innocence. Many Londoners considered the verdict to be unjust. After the execution, some 10,000 people escorted the body to the church grounds.
---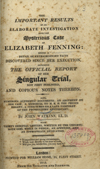 The important results of an elaborate investigation into the mysterious case of Elizabeth Fenning; being a detail of extraordinary facts discovered since her execution, including the official report of her singular trial, now first published, and copious notes thereon... Author: John Watkins. 46 pp. (London, 1815.)
NLM Unique ID: 28331210R
See the LocatorPlus record
3 OF 12