In 1832 Ephraim Avery, a Methodist minister, was charged with the murder of Sarah Maria Cornell. Cornell, a young factory worker, was found hung up on a stake, beaten and choked. At trial, the prosecution brought forth letters written by Cornell, warning that if she went missing to inquire of Avery; other letters discussed her fear of being pregnant. Doctors and the women who laid out the body noted that Cornell's lungs were filled with blood, and her knees had several abrasions. A fetus was found in the body, which, together with damage to the uterus, indicated an attempted abortion. Cornell had been a member of Avery's church until she was expelled for allegedly lying and behaving promiscuously. The defense claimed that she wanted to punish him, and on several occasions had threatened to commit suicide. Medical witnesses for the defense argued that the bruises found near her groin and abdomen commonly occurred during pregnancy and that the eight-inch fetus was in the fifth month, so that the child could not have been Avery's. Avery was acquitted, but the verdict was unpopular: a mob burned him in effigy and he was forced to move from Rhode Island to Ohio.
---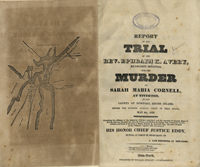 Report of the trial of Ephraim K. Avery, Methodist minister, for the murder of Sarah Maria Cornell, at Tiverton...Rhode Island, before the supreme judicial court..., May 6, 1833. Containing the evidence of the numerous witnesses..., and the speeches of General Albert C. Green, attorney general; Hon. D. Pearce, and William R. Staples, esq., counsel for the prosecution; and those of the Hon. J. Mass, Richard R. Randolph, esq., and other counsel for the prisoner; together with the charge of his honor Chief Justice Eddy, in full, as taken in short hand, by a law reporter... 50 pp. (New York, 1833).
NLM Unique ID: 101220897
See the LocatorPlus record

The Murders of Lucretia Cannon is a sensationalist and unreliable account. Cannon's first name was Patty, but the press nicknamed her Lucretia after Lucretia Borgia, the Renaissance aristocrat who murdered her victims with poison. At 16, "Lucretia" married Alonzo Cannon, who died suspiciously of "failing health" three years after entering into the marriage. Widowed, she set up a tavern in Maryland, and headed up a gang which captured free blacks and fugitive slaves and sold them into slavery. She was alleged to have beaten a crying infant and then burned it alive; murdered tavern patrons for their money (one man was stabbed and stuffed into a trunk which her accomplices disposed of); killed a slaver by crushing his head in order to steal his two slaves. Cannon's career came to an end when neighbors used a search warrant to enter her house and discovered twenty-one black captives and many skeletons in the backyard. At trial, Cannon was sentenced to death. To avoid hanging, she took poison which killed her, but first led her to break down and confess to killing eleven people, acting as an accessory to twelve other deaths, poisoning her husband, and killing her three-day-old child.
---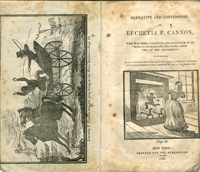 Narratives and confessions of Lucretia P. Cannon, who was tried, convicted, and sentenced to be hung at Georgetown, Del., with two of her accomplices; containing an account of some of the most horrible and shocking murders ever committed by one of the female sex. 24 pp. (New York, 1841).
NLM Unique ID: 101168163
See the LocatorPlus record
5 OF 12