In September 1845, in a small town in Kentucky, Dr. Abner Baker was arrested for the murder of his brother-in-law Daniel Bates. At trial, the defense argued that Baker suffered from "monomania", a partial derangement which manifested itself in obsessive and irrational suspicion. Baker was tormented by the belief that his wife had had many sexual encounters, including affairs with her uncles and a reverend when she was nine years old, and more recently with Daniel Bates. The court rejected Baker's insanity plea—because he "knew right from wrong" (the "McNaughtan rule")—and found him guilty. In prison, Baker attempted to slit his own wrists, but survived and was executed.
---
Life and trial of Dr. Abner Baker, Jr. (a monomaniac) who was executed October 3, 1845, for the alleged murder of his brother-in-law, Daniel Bates; including letters and petitions in favor of a pardon, and narrative of the circumstances attending his execution, etc. etc. Author: C.W. Crozier & A.R. M'Kee. 152 pp. (Louisville, KY, 1846).
NLM Unique ID: 55210370R
See the LocatorPlus record
The 1849 murder of the wealthy and prominent Dr. George Parkman was the subject of many pamphlets. Dr. John Webster, a chemistry professor at Harvard Medical College, borrowed money from Parkman and couldn't pay it back. Parkman went missing and was last seen entering the College for an appointment with Webster. The chief witness in the case, Ephraim Littlefield, a janitor, lived next to Webster's laboratory and noticed that Webster was making numerous trips to the furnace of the dissecting laboratory. Littlefield began to chisel away at the wall near Webster's lab and tunneled into a privy, which emptied into a pit. After a few days, he broke through a wall, and found a dismembered thigh and the lower part of a leg. Further investigation turned up a bone fragment in the dissecting lab furnace, as well as a jaw bone with teeth, a button and coins. A chest was later found which contained a thigh stuffed in a torso that was missing a heart and other organs. Parkman's brother-in-law identified the body by its extreme hairiness and at trial, a dentist identified the fake teeth he had made for Parkman. Medical experts laid out the body parts and estimated the height to be 5'10"—Parkman's height. Webster was found guilty of murder and sentenced to death by hanging.
---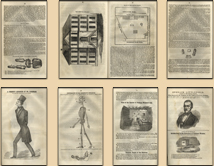 Trial of Professor John W. Webster, for the murder of Doctor George Parkman. Reported exclusively for the N.Y. Daily Globe... 76 pp. (New York, 1850).
NLM Unique ID: 28511780R
See the LocatorPlus record
6 OF 12