In 1853, Maria Hendrickson was found dead. An autopsy revealed tincture of aconite in her system. Her husband John Hendrickson was charged with her murder. At trial it came out that in 1851 Hendrickson had assaulted a young woman and, through his philandering, had contracted a venereal disease which he passed onto his wife. Witnesses testified that, on the week of his wife's death, Hendrickson went to a pharmacy and inquired about prussic acid, a fatal poison. The case focused on forensic medical issues. Both the prosecution and defense called on doctors to testify about the state of the body and the properties of aconite, an extract which removes water and causes dehydration. The doctors fed tincture of aconite to cats, and observed that they suffered convulsions and vomiting. In dissection, the cats were seen to have shriveled organs. Some witnesses testified that Maria Hendrickson suffered from severe vomiting prior to death and in the autopsy her stomach, gall bladder and intestines had a shriveled appearance. The defense countered that Maria did not vomit and her bed sheets were not stained. The jury found Hendrickson guilty of murder by poison, and he was sentenced to death by hanging.
---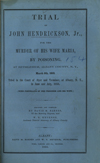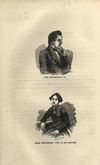 Trial of John Hendrickson, Jr., for the murder of his wife Maria, by poisoning, at Bethlehem, Albany County, N.Y., March 6th, 1853, tried in the Court of Oyer and Terminer, at Albany, N.Y., in June and July, 1853. Reported and compiled by David M. Barnes of the Morning Express, and W.S. Hevenor, Assistant District Attorney of Albany County. 176 pp. (Albany, 1853).
NLM Unique ID: 28410850R
See the LocatorPlus record
---
Review, opinions, &c., of Dr. Charles A. Lee, and others, of the testimony of Drs. Salisbury and Swinburne, on the trial of John Hendrickson, Jr., for the murder of his wife, by poisoning. 41 pp. (New York, 1855).
NLM Unique ID: 28410840R
See the LocatorPlus record
7 OF 12