Dr. William Palmer of Staffordshire, England, was a womanizer and gambler. He was tried for the death of his gambling companion John Parsons Cook, but after his arrest, it came out that that Palmer had likely committed many other murders. His mother-in-law died a suspicious death, as did several other people who had loaned money to Palmer. In 1854 his wife Annie fell ill and died, supposedly of cholera; a few months earlier, Palmer had taken out an insurance policy on her life. A maid to the family gave birth to Palmer's illegitimate son nine months after Annie's death; the baby died four days later. Palmer then took out a life insurance policy on his brother Walter; Walter died shortly after, but the insurance company refused to pay. By then Palmer was being blackmailed by a former lover and in grave financial difficulty. His friend Cook, who had recently won money at the track, was suddenly stricken with a terrible illness after dining with Palmer. While Palmer was tending to him as a physician, he went to London with Cook's betting books and claimed his money. Cook died shortly thereafter. His stepfather suspected foul play and insisted on an autopsy. According to the medical experts, the cause of death was strychnine poisoning, but much to the embarrassment of the experts, no traces could be found in the body. Palmer was nevertheless found guilty and hanged, before a crowd of 30,000.
---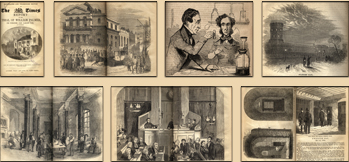 Illustrated and unabridged edition of the Times report of the trial of William Palmer, for poisoning John Parsons Cook, at Rugeley. With The Official Report of the minutes of evidence. 184 pp. (London, 1856).
NLM Unique ID: 101142897
See the LocatorPlus record
---
The trial of William Palmer for the Rugeley poisonings. Price: One shilling. 191 pp. (London, 1856).
NLM Unique ID: 56021040R
See the LocatorPlus record
8 OF 12