In December 1859 in a small town in upstate New York, Priscilla Budge, a 40-year-old housewife, was found dead with her throat slit and a razor near her hand. The death was initially ruled a suicide, but after a postmortem, her husband, Reverend Henry Budge, was charged with murder. At trial, the prosecution and the defense relied heavily on forensic evidence. In this pamphlet, Dr. John Swinburne, reviews the evidence and concludes that Mrs. Budge was murdered. The pamphlet cites the opinions of eminent medical men who were sent copies of Swinburne's draft report and agreed with his assessment. The appendix discusses fifteen cases of suicide by slitting of the throat and the conditions in which the persons were found. Swinburne notes the amount of blood lost, the bloody appearance of the razors, the depth of the cuts (not as severe as those on Mrs. Budge's body), and the distorted facial postures (Mrs. Budge's face was peaceful). The pamphlet's illustrations present different murder scenarios. At trial, the defense argued that Mrs. Budge was insane, murderous and suicidal. With only circumstantial evidence, the jury acquitted Rev. Budge of murder because there was no direct proof.
---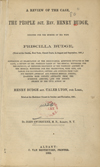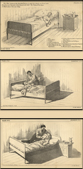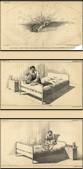 A review of the case, the People agt. Rev. Henry Budge, indicted for the murder of his wife, Priscilla Budge, tried at the Oneida, New York, Circuit Court, in August and September, 1861...and the judge's charge in the civil action of Henry Budge agt. Caleb Lyon for libel, tried at the Herkimer Circuit in October and November, 1861. Author: John Swinburne 94 pp. (Albany, 1862).
NLM Unique ID: 28510790R
See the LocatorPlus record

In Cleveland, in 1864, John Hughes, a reckless and drunken 31-year-old Army surgeon, seduced 17-year-old Tamzen Parsons. After he showed her a forged divorce decree, she eloped with him to Pittsburgh. When her parents discovered her missing, they called the police who arrested Hughes in the couple's bridal suite. Convicted on charges of bigamy, Hughes served five months in jail. Upon his release, he stalked Parsons. At the front gate of her house, Hughes threatened to kill her if she did not marry him. When she spurned his advances, he shot her twice in the back of the neck, instantly killing her. At trial Hughes was found guilty of murder and sentenced to be hanged.
---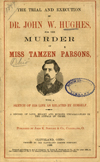 The trial and execution of Dr. John W. Hughes for the murder of Miss Tamzen Parsons, with a sketch of his life as related by himself. A record of love, bigamy and murder unparalleled in the annals of crime. Price fifty cents. 58 pp. (Cleveland, 1866).
NLM Unique ID: 101480844
See the LocatorPlus record
9 OF 12