---
---

The World War II Era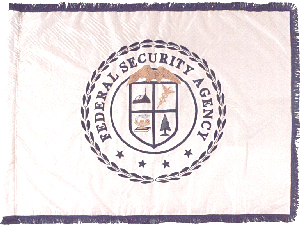 Federal Security Agency Flag, 1939 to 1953.
Under President Franklin Roosevelt's government reorganization plan, effective July 1, 1939, the Public Health Service, including the National Institute of Health, was transferred from the Treasury Department to a new Federal Security Agency. It combined the health, education, and welfare agencies of the Federal government. The FSA was composed of the Civilian Conservation Corps, National Youth Administration, Office of Education, Public Health Service, Social Security Board, and U.S. Employment Service. The FSA flag captures these functions with its representation of a secure home, a health caduceus, a tree for conservation, and a lamp and book for education.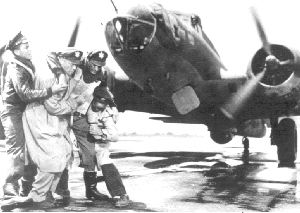 NIH did studies of pilots in World War II.
This ended the 141 year association with the Treasury Department which witnessed the evolution of the Public Health Service from a small organization, devoted entirely to the medical care of merchant seamen, to a national health agency. The chief threat was no longer the ship borne epidemic but the chronic diseases -- syphilis, tuberculosis, heart disease, cancer, and stroke. Crusades against these diseases had to wait until after World War II, however, during this wartime period medical research focused on matters that affected the armed services, such as venereal and tropical diseases and tuberculosis. Also, the NIH launched a nationwide nutrition campaign and did studies of pilot deaths from drastic air-pressure and oxygen-content changes. The NIH investigated synthetic substitutes for medicines against malaria and pain relievers after wounds.