Immunization
While tuberculosis and venereal diseases remain significant public health threats at the beginning of the twenty-first century, strategic vaccination campaigns have virtually eliminated previously devastating infectious diseases including diphtheria, measles, mumps, rubella, tetanus, poliomyelitis, and smallpox. As a result, the Centers for Disease Control include vaccination among the ten great public health achievements in the United States in the twentieth century. State and local health departments began instituting vaccination programs in the early 1950s with the licensure of diphtheria and tetanus treatments, and by 1955 the introduction of the Salk poliovirus vaccine led to federal funding of state and local vaccination programs. In 1962, the Vaccination Assistance Act established a federally coordinated program that supplies funds for the purchase and administration of a full range of childhood vaccines. In order to encourage parents to vaccinate their children, public health administrators worldwide have used posters in promotional campaigns. By appealing to parental instincts of protection and responsibility, through images and text, these public health posters have been a valuable part of efforts to extend vaccination coverage.
---
This promotional poster from the California Department of Health appeals to viewing parents by featuring a small child curiously reaching over the edge of a bathtub for his toy boat. The textual message emphasizes the parental duty to protect a child from dangerous diseases and equates loving a child with immunization.
---
This poster from the Department of Health, Education, and Welfare and the Centers for Disease Control appeals directly to parents by speaking through the characters of the popular film Star Wars. These widely recognizable figures from popular culture are particularly suitable for promoting immunization because they are familiar to both parents and children, and as a result they are likely to capture the interest of many viewers. By combining image and textual message, the poster gently but effectively recommends that children be fully immunized.
---
These posters (in English on the left and Portuguese on the right) were designed to advertise the 1977 and 1987 World Health Day-annual celebrations intended to raise global awareness of a specific concern for the World Health Organization (WHO). World Health Day annually launches long-term advocacy programs by coordinating activities and allocating resources. In the top images, an umbrella adorned with a rainbow happily protects a representative multicultural group of children. The umbrella symbolizes a renewed commitment to immunization. Alongside WHO emblems, the slogan "a chance for every child" suggests that immunization can create opportunities that all children are entitled to. The bottom images use a simple positive message of diversity with images of multi-colored "smiley faces" as a background for the directive, "Immunize and protect your child."
---
This WHO poster uses an illustrated story to appeal to viewers resistant to immunization campaigns. It explains the threat of infectious disease, the consequences of refusing to immunize your child, and the advantages bestowed by protecting your child. In the story, one "distrustful" woman refuses to immunize her baby and later regrets it when disease strikes like a bolt of lightning and there is nothing she can do to help her young child. Meanwhile, another woman's child is immunized and distinguished by a virtual protective shield that defends against disease.
---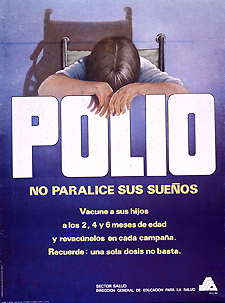 When a series of polio epidemics swept across North America in the 1940s and 1950s, modern medicine was powerless to stop them until the development of the polio vaccine. Its impact was nothing short of miraculous. The development of an injectable form of the Salk polio vaccine in 1955 stimulated widespread administration in schools and clinics in industrialized countries, resulting in a marked drop in cases. For decades the U.S. remained ahead of countries like Mexico in the percentage of children vaccinated. After the measles pandemic reached Mexico in 1990 and killed nearly 6,000 children, however, the Mexican government established a central authority to oversee the national vaccination campaign, known as the National Immunization Program. Posters such as this one are used to promote compliance. Immunization campaigns are run three times a year, with uniformed brigades of nurses keeping careful watch over vaccination rates, neighborhood by neighborhood. Below the image of the wheelchair bound child slumped over the prominent headline "POLIO," the caption reads, "Don't paralyze their dreams." Using an appeal to parental responsibility, the remaining text informs the viewers when to vaccinate their children. In 2002, Mexico had a 96 percent vaccination rate for children ages 1 to 4, compared with an immunization rate of 79 percent for 2-year-olds in the United States.
---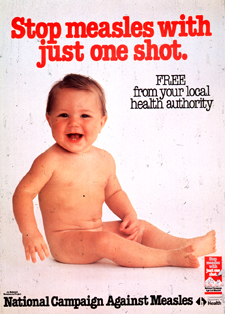 Measles remains one of the major causes of vaccine-preventable deaths in the world. Prior to 1963, almost everyone got measles; it was an expected life event. Each year in the U.S. there were approximately 3 to 4 million cases and an average of 450 deaths, with epidemic cycles every 2 to 3 years. More than half the population had measles by the time they were 6 years old, and 90 % had the disease by the time they were 15. After the vaccine became available, the number of measles cases dropped by 98% and the epidemic cycles drastically diminished. In the late 1990s, however, there were still an estimated 30 million measles cases and 880,000 measles-associated deaths worldwide, with 85 per cent of deaths occurring in Africa and South East Asia. In recent years a dramatic reduction in measles incidence and the elimination of endemic measles transmission has been achieved as a result of national campaigns like the one depicted in this poster. The poster uses a common strategy by featuring a happy and healthy child as the dominant image. The message is conveyed simply and boldly at the top of the poster in red lettering. Emphasizing simplicity and convenience, the poster tells the viewer that it only takes one free shot to prevent measles.
---
Despite the amazing successes of immunization programs, noncompliance with recommended vaccination schedules has prompted public health departments to continue their promotional campaigns. Opposition to immunization is particularly common within the alternative medicine community, with many practitioners denying its safety or usefulness. Such opposition has been a factor in leading many people to become more concerned about risks of immunization than the risk of developing diseases that are no longer part of everyday experience in developed nations. In order to respond to this movement, public health departments continue to develop advertising campaigns for the promotion of vaccination. This recent poster from the Vermont Department of Health uses a storybook motif with illustration and rhyming headline, "Have your tots had all their shots?" While playful in design, the message in the caption is serious: immunizations protect children from a long list of diseases including polio, diphtheria, tetanus, pertussis, hepatitis B, influenza, rubella, measles, and mumps.
---
Infectious Disease: Introduction < Tuberculosis < Venereal Disease < Immunization > Eradication